Book 16 – A book you think should be turned into a movie – My sister the serial killer by Oyinkan Braithwaite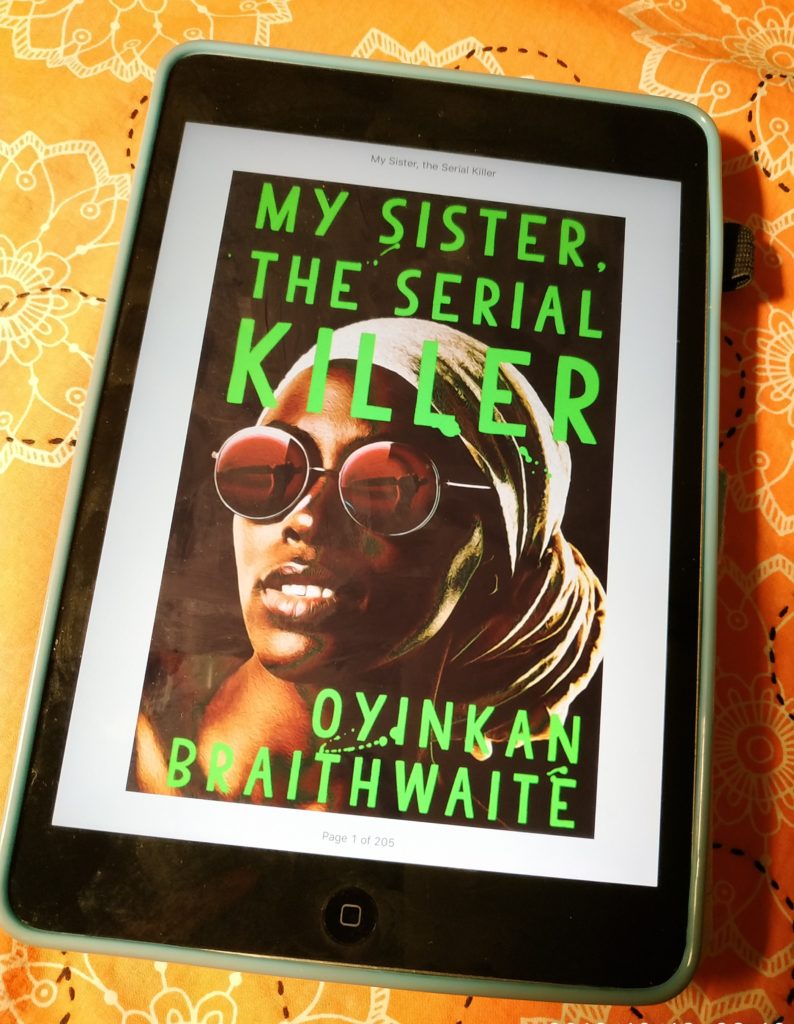 Wow!
wow, wow, wow!
where do I even start?
This book is so good!
It's definitely my favourite book of the challenge so far and I was delighted that my local library had a copy in their digital catalogue. They're really expanding into more diverse writers and genres.
So if you're in Ireland and don't mind reading books on a device, download borrowbox. all you need is an email address and your library card for access to ebooks, audio books and comics.
Anyhoo, Here's my spoiler free review.
Book blurb:
When Korede's dinner is interrupted one night by a distress call from her sister, Ayoola, she knows what's expected of her: bleach, rubber gloves, nerves of steel and a strong stomach. This'll be the third boyfriend Ayoola's dispatched in, quote, self-defence and the third mess that her lethal little sibling has left Korede to clear away. She should probably go to the police for the good of the menfolk of Nigeria, but she loves her sister and, as they say, family always comes first. Until, that is, Ayoola starts dating the doctor where Korede works as a nurse. Korede's long been in love with him, and isn't prepared to see him wind up with a knife in his back: but to save one would mean sacrificing the other…
Publisher: Atlantic books
Pages: 240
Review:
I can't tell you enough how much I loved this book.
Darkly funny, paced really well and the story is told in a very simple yet effective manner that kept me hooked from start to finish. The varying chapter lengths – sometimes a sentence long, sometimes only a short paragraph, worked very well with the story. The characters are complex and well thought out, all complex enough to make you torn by the differing fates that await them and the struggles they've faced. I read it in two days it was that good! If I hadn't had work to go to and kids to feed and care for, I'd have read it in a couple of hours, it drew me in that well.
The book blurb says it all, so there's nothing to spoil when I say it's about two sisters, one of whom is a serial killer, and the interplay between them. The book is narrated by Korede (the elder sister) as she tells the sorry tale of how she has to take care of her younger, sociopathic sister Ayoola. The two are physically opposites. Korede is bland and forgettable while Ayoola is curvy, beautiful and mesmerising. Korede is ambitious, smart and an introvert, while Ayoola spends most of her days(…what does she even do all day?) on Instagram, posting pictures of clothes she's designed and made. Korede can't even remember the last time she had a boyfriend, while Ayoola is dating and killing her boyfriends at an impressive rate.
This isn't a psychological thriller, detective thriller, who-dun-it (it's right there in the title!) nor is it crime noir in any sense of the word. At its heart, I felt it's a story of family, the dysfunctions and trauma that carry on, unspoken, through generations, and the loyalties we feel obliged to hold on to, even when they can destroy who we are. I didn't particularly like Korede, but my empathy levels were through the roof for her, poor cow. There isn't even a question of not liking Ayoola, I mean, she's a serial killer, liar and, when the ultimate choice comes for Korede – Ayoola or the man she's been secretly lusting after, it's as heartbreaking but as predictable as African families tend to be. and not in a bad way, no, just in a sad way and yet, and yet…I had hoped it would end some other way. At least for Korede.
The sub stories involving tee wider families give just enough of a glimpse of the women's childhood and parents to make you want to cry, and the wider familial obligations that have to be navigated are just plain crap. The writer gives us a very vivid slice of the patriarchal society that the middle class family live in, rife with the man being the head of the family who believes he can do whatever he wants and dictate what the women of his family can and cannot do. The violence that can hide behind a veneer or respectability and materialism, and the obsession with marriage as the highest achievement a woman can have. And the fact it's all interwoven in a manner that draws you in and out of the darkness in such an expert manner, is simply amazing.
Fuck, if I ever write a book like this, I'll die happy!
I'd highly recommend reading this book.
And yes, I'm not the only one who thinks it should be made into a movie, because the options for same have been bought this year.
They better not make a balls of it!
*
Beg, borrow or ask to be gifted the book for christmas, or borrow it from your local library (like I did!) and also you can buy it by following this affiliate link for bookdepository. Should you follow the link and buy a book, I'll get 5% off the price of my next purchase, so give me some love. They provide free worldwide shipping so that's an added bonus to their relatively low book prices.
Till next time,
M