And who I am needs no excuses – or masks.
You might have noticed – or maybe you hadn't, who knows – the tumbleweed piling up and blowing over my blog in recent months. I guess for those who read my blog diligently (probably only by two sisters, out of four siblings. Ouch.) I want to explain why I haven't been writing as often as I have wanted to.
And boy have a I wanted to.
Everyday I would would be on the bus or in work and would think to myself "hey, why don't you write about that?" and I'd take out my phone and go into my drafts, start the first sentence and bam! It would hit me.
The burden of starting out as a therapist.  See, we had a day on ethics last academic year and since then, I just haven't been the same. Twenty four years it's taken me to begin to realise a lifelong dream and at the final hurdle, things I had never thought about are being forced into the spotlight. And the most central of it all – What does it really mean to be a therapist?
I realise now that I hadn't really thought about how my own personal life would/might/could influence my new career. What type of therapist did I want to be? did I want to have a job or work in private practice? Did I want to specialise in something? Were there areas I really didn't want to work in? ? In a profession that works mainly by word of mouth, at least in private practice what would that mean, working in a country where not only am I still relatively, a stranger after fourteen years, a woman, a black woman, a black African woman, an atheist black African woman?
To be entirely honest with you, I hadn't really, really reeeally thought about it.And the truth is psychotherapy as a trade still works widely on word of mouth and people's experiences of you as a person and there began to be these questions inside me…
For example, I belong to a gazillion Facebook groups as myself. They have helped me a lot with expanding my views on the world, connecting with people, with dilemmas I've had, with parenting, breastfeeding, being a working parent and I started over the summer to withdraw from them. Worried about how I would be perceived, not offering my opinion, not wanting to present myself in a way that who knows, next year someone might say,
"Oh my god, that person is a therapist? She belonged to my Facebook group and she is an absolute cow! I wouldn't dare go near her."
Or that, Thor forbid, my ultimate fear, what if a potential client or an existing client read my blog!
I've been writing for over four years now. Would I have to go back and erase stuff? Are there things that made me appear (gulp!) less that a compassionate, trustworthy (read perfect) human being? What if, what if, what if….
And I would find myself drafting a post and censoring myself and not wanting to swear as much as I wanted to or wonder was that "therapyist" enough (whatever that is!) and then I'd just delete the whole thing and go have chocolate instead.
You know, shit like that.
In a way, I had been sucking myself unknowingly into the persona of the therapist.
Jung described persona as a mask we wear, designed to make an impression on other people, to fit in to what society expects of you but also acts to hide/mask (- geddit?) our true nature from people. Every profession and title has it. From the boring accountant, the pious priest, the caring mother, the evil lawyer, the distant father, teh meddling mother-in-law, the drunk uncle, the only child, you name it, and you've probably got this "type" in mind.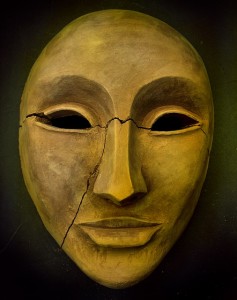 And without knowing it, I had sold myself on "the therapist". This perfect being who floats down from their ivory tower into the therapist's chair and waves a magic wand and solves all your problems. And of course this person can do no wrong, has their own life totally worked out and is an exemplary balanced sane example of a human being.
What a load of bs. right? I mean, I can't believe I fell for it myself, and I'm like, in my own head all the time dude. All the time!
It's like I forgot the basic tenet of being in any caring profession.
That I am human too. That the best way to be with people is to be with yourself.
I can only be me. And some people will like it, some people will hate it, but I can't be this false person because I'd only be setting myself up to fail. The relationship that happens in therapy goes beyond being perfect. It's about being imperfect, about accepting that and finding meaning regardless of the pain that we may have in life. And a perfect being can't tell you that because really, what do they know about pain? They're effing perfect.
So I think I've found my mojo again.
I'll just be me, because hey, everyone else it already taken.