Book 17 – A book that includes a wedding – The Priory of the Orange Tree by Samantha Shannon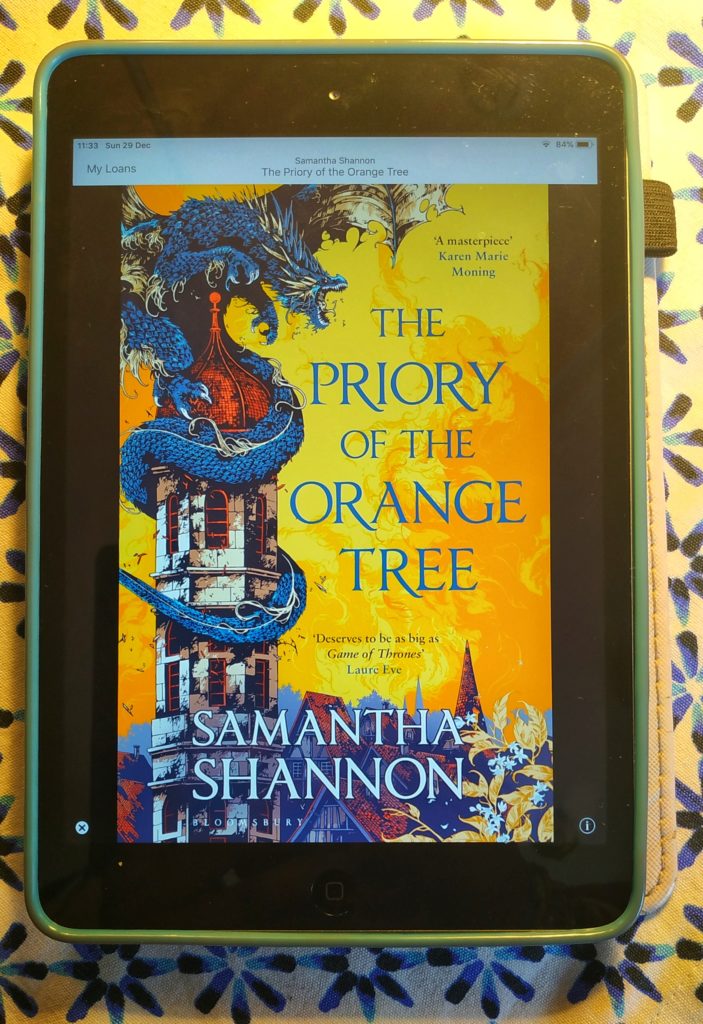 Okay, so it's been a while, but I've been very busy.
However, I plan on catching you up with the reviews of all the other books I've read in between then and now, before the year end and begin the 2020 reading challenge.
So, nekest.
Here's my spoiler-free review.
Book Blurb:
An enthralling, epic fantasy about a world on the brink of war with dragons – and teh women who must lead the fight to save it.
A world divided. A queendom without an heir. An ancient enemy awakens.
The house of Berethnet has ruled Inys for a thousand years. Still unwed, Queen Sabran the Ninth must conceive a daughter to protect her realm from destruction – but assassins are getting closer to her door.
Ead Duryan is an outsider at court. Though she has risen to the position of lady-in-waiting, she is loyal to a hidden society of mages. Ead keeps a watchful eye on Sabran, secretly protecting her with forbidden magic.
Across the dark sea, Tane has trained to be a dragonrider since she was a child, but is forced to make a choice that could see her life unravel.
Meanwhile, the divided East and West refuse to parley, and forces of chaos are rising from their sleep.
Publisher: Bloomsbury publishing PLC
Pages: 888, 923 with the cast of characters and glossary. (ebook version)
Review:
I finished the book around eleven last night and am still hungover from it so forgive me if this doesn't stitch together as well as it should.
When I first started reading this book, I didn't want to get too interested in it as, given the list of characters and the ye olden time English used, I had already convinced myself that it was going to be a trilogy and to be honest, I just wanted a story that started and ended in one book. It came with so many brilliant reviews that I went googling before i got too immersed in it, and I was delighted to find that it wasn't a series. I promptly threw myself heart and soul into that world.
Did. Not. Disappoint.
The story is told from the point of view of four characters, Eadaz, Loth, Niclays and Tane, each covering a very specific part of the world so that you get an idea of whats happening quite early on in the book. You have to be prepared to have either a really good memory for all the characters, their histories and that of the places, religions and families they interact with, place-names and who knows what else, or have an actual hard copy of the book so you can go back and forth between the story and the list of characters at the back – useless in an ebook so I just had to suck it up and rely on my memory. But if you read enough Fantasy books, it's nearly a must to ready yourself for numerous characters with hard to pronounce names so…*shrugs*. It's nearly not a good fantasy book if you don't have that…and a big ass map at the front. Once you have those things in place, you rub your hands with glee and settle back with a blanket and snacks.
I digress.
It's nearly impossible to write a really full spoiler free review of such a complex book, so I'll mostly touch on ideas I liked, and maybe some things that didn't quite work for me.
If you enjoy fantasy driven by women, this is the book for you. it doesn't disappoint in that regard at all. The cast and diversity of women is huge. From heroines (sheros?) to villains to misguided fools, bodyguards, and plain old idiots you find women aplenty in everyday life without any big deal made of their capabilities. And trust me, as a person who has read fantasy most of my life, it's wonderful to find so many books these days where women aren't portrayed one dimensionally, so yes, loved this book for that.
There's a lot of religion too in this book. I found myself really wanting to reread Trudi Canavan's Priestess of the white series because there are similar threads in this. The way the world can be divided by beliefs that, in the end, are usually built on fragmented segments of the truth, huge chunks of lies and people taking credit for things they never did. I liked the was the author wove these ideas into place and slowly unwinds them throughout the book. I'm fascinated by religions as a whole, so this was the part of the books I found the most interesting. How religions ebb and flow, how bits are left behind and misunderstood. It was pretty cool. The fact that the author build a whole new set of religions for her world is pretty amazing. I loved it!
The love story! oh, it's done with such elegance. usually in fantasy it's so driven by the male gaze that you get used to it and don't see beyond it. Because like NK Jemisin's in story romances, this fantasy does it so subtly and without great fanfair. I didn't like one of the characters at all, and the other I could have taken or left to be honest, but the way they fall in love…sigh. I really warmed to them based on their love. The book has a lot of love, but only the one romantic story in it and it's heartwarming. the other stories of love – Loth and Margret's sibling love, Loth and Kit's wonderful friendship and the love they have for each other, Tane and Nayimathun's bond. I just adored Tane! If I could change one thing, it would be to ask the author to write more of her story and a fuller ending to her tale. The hinted friendship that we never quite got to see fully between Ead and Nairuj. There's a lot of love in this book. It's what kept me reading.
The world building is also very elegantly done…probably because they emulate olden England and olden china. For me at least. So it was easy enough to fill the spaces between what isn't described, even with the fantastic creatures that exist in some of the places. It could have been more complex, but it worked for me because it helped my memory of remembering the characters and what was going on. Especially when chapter headings were "west" and "east". And when the clothing and the feel of the cultures basically existed in the same context as our own world.
What didn't I enjoy about it? For all that women are everywhere in the book, and especially in Inys, that they fulfil every role in society like it it's not a big deal, why on earth do they reduce the queen to just a baby making machine with no other value. Once she had a child, she became valueless and easy to throw away. It was a bit weird and hmmm. Not quite right in such a forward thinking society.
When the climax came, it was a bit anti-climatic. The final battle with the "big bad" happens like a paint by numbers battle. It was just okay. I think it could have been written waaaaay better. The timelines that lead you to the battle are all skewed. Within like two pages (of course I exaggerate, but not by much) we leap over months and are on the eve of battle. I felt cheated. It was Game of Thrones all over again. Not that I wanted a long drawn out blow by blow account of every stab and parry in the battle. Just. I expected more magic and a whole lot more dragons than I got. For a fantasy book with a big ass dragon on the cover, there wasn't very much magic or enough dragons for me.
Anyhoo, I could go on forever.
Was it worth reading? definitely. If you love fantasy and you love long reads that pull you out of you current world for whatever reason, then definitely read this. A solid three point five out of five.
*
Beg, or ask to be gifted the book for the new year, or borrow it from your local library (like I did!), or also you can buy it by following this affiliate link for bookdepository. Should you follow the link and buy a book, I'll get 5% off the price of my next purchase, so give me some love. They provide free worldwide shipping so that's an added bonus to their relatively low book prices.
Till next time,
M