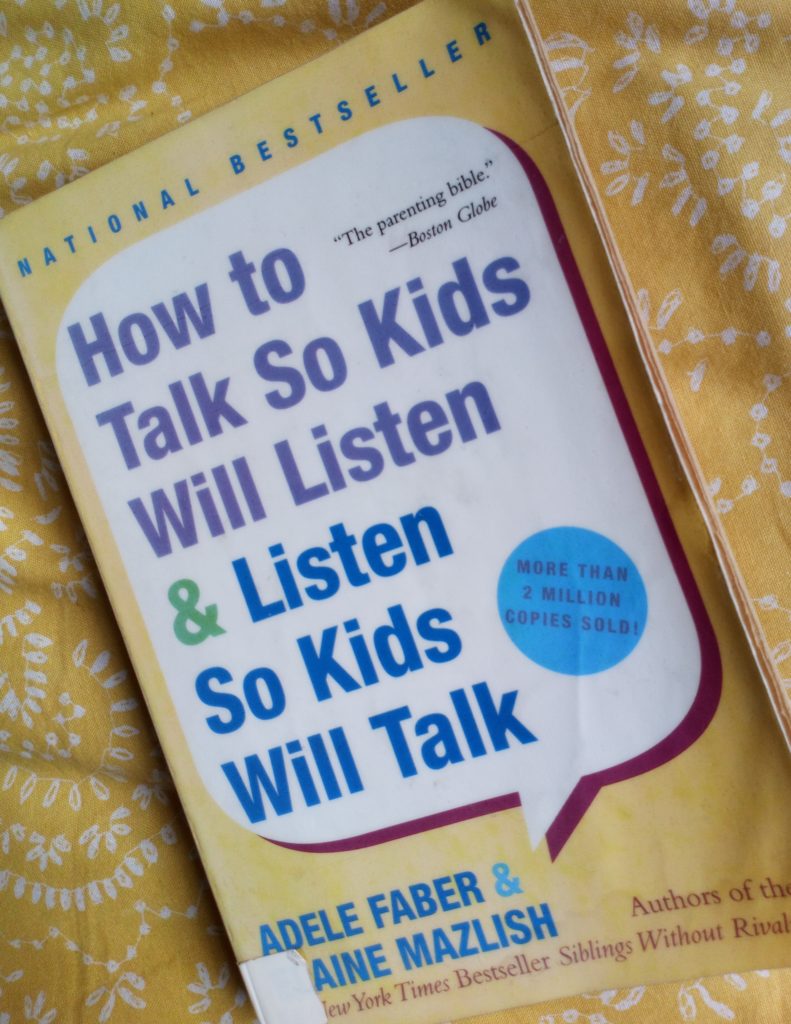 Book 2: A book by two female authors
I have a funny story about this book.
When I first brought it home from the library, Child 1 (8) said,
"Noooooo! I don't like that first part. No matter how much you talk, I'll never listen!"
Which only shows you what a dramatic home we have.
As I was placing it in my bag to take it back to the library last Saturday, the same child said to me,
"Mummy, you don't need that book. You're the best mummy just the way you are".
Which was the sweetest thing ever, but blatantly untrue. I'm far from the best mummy ever, but I really, really try to be good enough.
---
Book Blurb:
Here is the bestselling book that will give you the know-how you need to be effective with your children. Enthusiastically praised by parents and professionals around the world, the down–to–earth, respectful approach of Faber and Mazlish makes relationships with children of all ages less stressful and more rewarding.
Recently revised and updated with fresh insights and suggestions, How to Talk so Kids Will Listen & Listen so Kids Will Talk is full of practical, innovative ways to solve common problems and build foundations for lasting relationships.
Publisher: HarperCollins
Pages: 220
Author Country: American (both)
Review:
It was okay.
I don't know what insights I expected to be honest. I think I thought I'd be blown completely away by it.
Don't get me wrong. If you are a parent not familiar with the attachment or the gentle parenting approach and want to switch to that method of parenting, then this is a revelation. The scales shall fall from your eyes and you shall never again unsee what you see in the pages of this book. Hand on heart.
However, if you are already practicing this way of parenting, this book may offer a reminder of how to do things. How to hold on to your temper a bit longer. How to stay calm, to stay connected and above all, to remember that while this small human may drive you up the wall several times a day, they are learning how to be in this world, while trying to regulate a whole host of emotions that even you as an adult, struggle with at times.
There are various chapters on, for example, how to talk about feelings without zoning in on your child's character or personality (i.e. belittling them basically), about using I statements instead of accusatory ones, when talking about the behavior of a child and the effects on you as a person; about active listening and how it encourages the child to work through their emotions and come up with their own solutions to problems, and how to support them.
Basically, it struck me as a very therapeutic approach to parenting really.
So yes, everyone can benefit from it. It contains a lot of reminders on how to be a good person and parent in general.
My personal parenting motto has always been: interact with your child imagining they are the same size as you, or like they are a colleague at work – diplomatically, politely and the way you would want them to interact with you.
*
I borrowed this from the library, but you can also purchase it by following this affiliate link for bookdepository.com Should you follow the link and buy a book, I'll get 5% off the price of my next purchase, so give me some love if you do buy a book from them. They provide free worldwide shipping so that's an added bonus to their relatively low book prices.
Till next time,
M