Book 4 – A book with a question in the title – How long till black future month? by N.K. Jemisin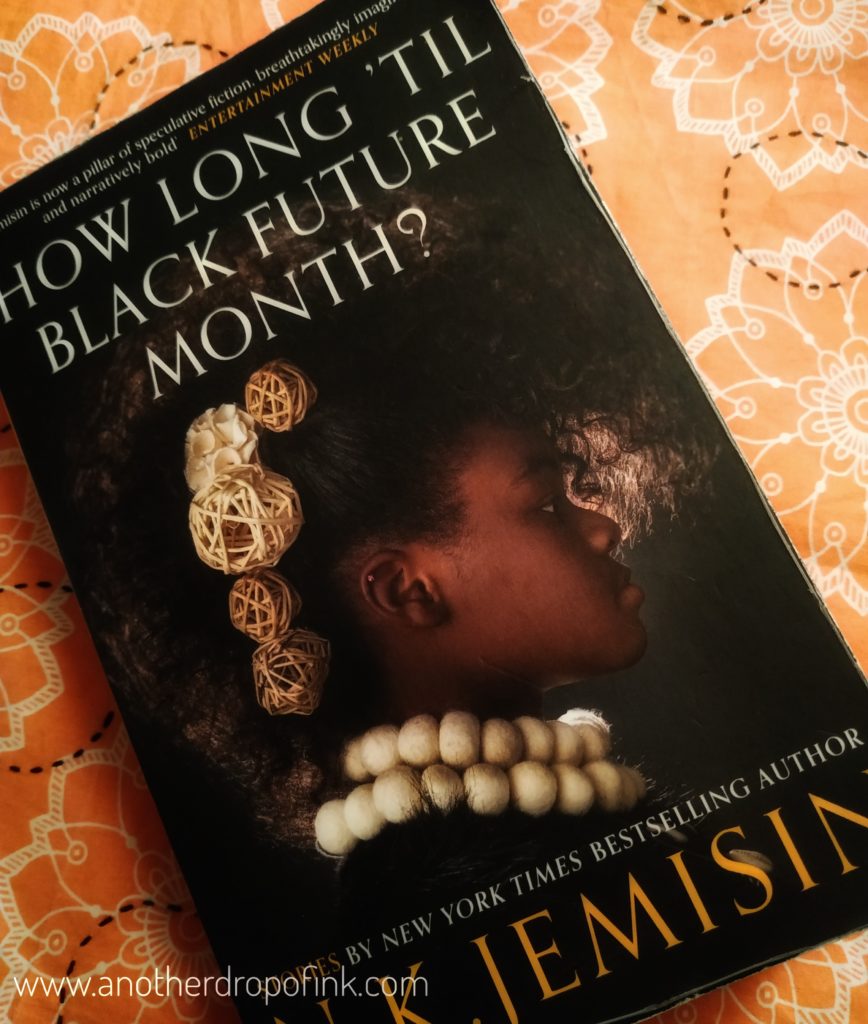 Book Blurb: Record breaking, three-time Hugo Award-winning and New York Times bestselling author N.K. Jemisin sharply examines modern society in her first short sorry collection including several never-before-seen pieces…
Publisher: Orbit
Pages: 400
Author Country: United States of America
Book Review: This book took me a long time to read. Not because I didn't love it (I did), more because I had to pause after each story and just really think.
Every story gave me a lot to mull over. Even the introduction gave me pause. Then I had to go read THIS blog post by her because….damn.
Her introduction speaks about the lack of diversity in Sci-fi and fantasy and the events that lead to change – which you should also read HERE. It's an amazing short non-fiction story all on its own.
Anyway, there are twentyone stories in this collection, and I loved every single one of them. I find it difficult to review short stories as there seems little way of spoiling them in the process, and these are really worth you experiencing yourself and coming to your own conclusions. Some of them, I had to read twice to get what exactly she was trying to say, but overall, every story was simply exquisite. Starting with The ones who stay and fight where humans in an alternate dimension have managed to achieve  harmony and equality by watching how badly ours has made an absolute balls of it, and ending with Sinners, saints, dragons, and haints, in the City beneath the still waters that's set in the few days following the breaching of the levees in New Orleans by hurricane Katrina and is a great story to end a collection.
Some, like Red Dust With or L'Alchimista or The effluent engine, are complete stories in and of themselves, while others are snippets of worlds you'd love to immerse yourself into and never leave, no matter how unsettling some turn out to be.
The most compelling element in her short stories is this – that as humans, we build stories to make sense of the lives we live. Our stories reflect who we were, who we are, and who we fear, want or long to be. And when you don't see yourself reflected in the type of stories that you love, it leaves a hole that sometimes, you're unable to articulate or find because you don't even know that the hole is there. And when I read this collection of short stories, I could understand why she gave it this title.
Here's the thing.
You get used to reading fantasy and assuming the main character, and about, oh, I'd say, ninety-nine point three percent of the cast, are white… or aliens.
For a very, very, very long time, Science fiction and fantasy was predominantly written, published and marketed by America and Europe. And of the ones I read, white American and English men. And since people often tell stories about what they know, their worlds were populated by the people they knew. It meant for a long time, that I had to be told that a character was black, or asian, or aboriginal, otherwise I assumed (usually correctly, to be honest) that they were white.
How sad is that?
But it also means that one starts to wonder where all the other writers are that aren't male and aren't white. Where are all worlds populated by strong black (Carribean, American, African), Asian (Sri-Lankan, Indian, Korean, Chinese etc) Hispanic, Aboriginal, Persian, Arab etc characters? Where do they exist where they are the main characters? And that's only the start of the minorities, I could go on to disabled, LGBTQAI and everyone else.
Also, so much of fantasy is the realm of the past. Castles, swords and sandals, knights and lords and peasants and slaves. So much of urban fantasy is populated by vampires, fae and werewolves. Most of the Sci-fi future is dominated, as I said, by white male protagonist and aliens, that it is about time we asked, "hey, what about black future month?" When will we begin to see alternative stories that don't revolve around Eurocentric myths and legends? That don't revolve around the "white dude". I have nothing against the white dude but his story doesn't represent us all. To paraphrase Jordan Peele, I've already read that book and know that story.
*
I've discovered there are a LOT of other writers and other worlds out there. And they're finally, over the last few years, getting some seats at the table and they are awesome! And thanks to the internet gods, they are within easy reach and not driven by what publishers and marketing companies think people want. We can bypass them and actually get what we want ourselves.
We're slowly seeing the emergence of other stories, of other worlds and other characters and protagonists, and I for one, welcome our diverse, feminist, politically correct overlords.
Now, I've digressed completely from the actual book review, but, to read one of the stories from N.K.Jemisin's collection, you can find The Evaluators for free here.  Get the book, read it, and enjoy it.
---
You can buy this amazing collection of short stories by following this affiliate link for bookdepository.com  Should you follow the link and buy a book, I'll get 5% off the price of my next purchase, so give me some love if you do buy a book from them. They provide free worldwide shipping so that's an added bonus to their relatively low book prices. Or maybe it's in your library, or a friend has it. either way, read it.
Till next time,
M