Book 9 – A book set in Scandinavia – Let the right one in by John Ajvide Lindqvist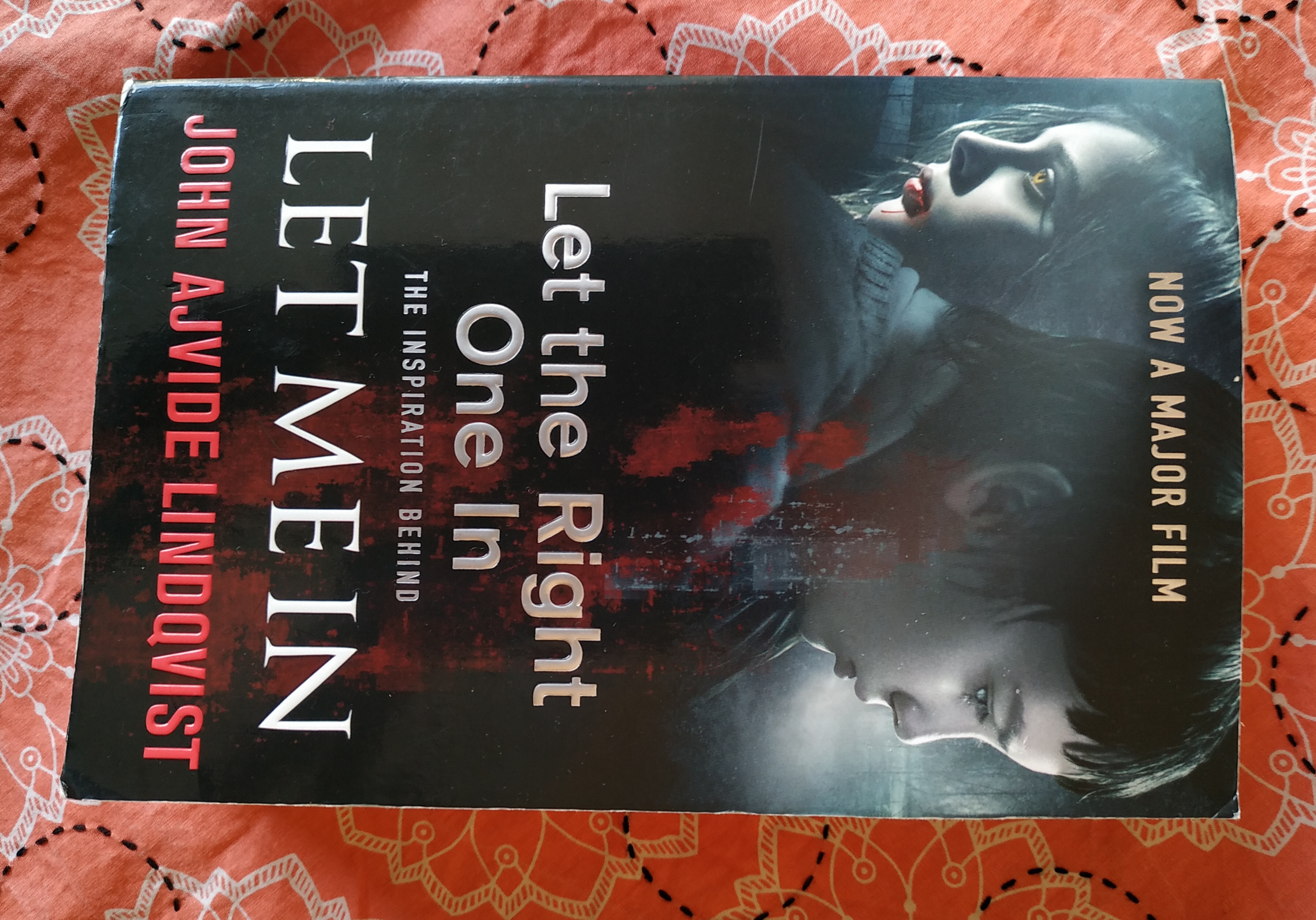 Book Blurb: He is a twelve-year-old outsider; bullied at school, dreaming about his absentee father, bored with life on a dreary housing estate. One evening he meets a mysterious girl. As friendship blossoms between them, he discovers her dark secret – she is a 200- year-old vampire, forever frozen in childhood and condemned to live on a diet of fresh blood.
Publisher: Quercus
Pages: 519
Author country: Sweden
Review:
I haven't read a horror novel in a while, so this was refreshing. I was actually surprised. I'm so used to only reading crime set in Scandinavia that yeah, I was very surprised. The book has multiple points of view that interweave wrap around the story in ways that finally become clear, but are at first a bit perplexing yet sucks you into a multifaceted world of teenage boys, drunks, loneliness and despair.
The main character is Oskar, a twelve year old boy who's being terribly bullied at school, has no friends, and really no support at home at all. It was hard, reading about his life, because Lindqvist writes in a very minimalist, economic way that just takes you straight to the point. The whole atmosphere of Oskar's life is so bleak. Poor kid. I felt for him from the start. The way Lindqvist describes the lives of pre and teenage boys is a bit frightening. Is this how they can turn out? I noticed that most of them were boys without any male role models in their lives. so I don't know if he was going for a moral 'boy needs his father' stance or not, but it really felt that way in places. The mums were mostly weak and focused on themselves instead of really looking out for their kids, and put their own needs and emotions ahead of their kids. In every instance. I didn't like that he wrote them like that, because there's actually no strong female character in the book. At all. That's my only beef.
The other character that's very vividly written is the suburb of Blackeberg. It's like a character in its own right. The apartment blocks, the school, the subway stations, bridges…they all come to life in the very cold winter that the book is set, to build this oppressive feeling where the sad story takes place. It's perfectly described and made me want to go visit, especially when I found out it's a real place where Lindqvist was born.
So anyway, the story is set in 1981, which at least let's you know why there are no phones, internet or other modern conveniences that Oskar and other characters could have used to find out information quicker. There are disturbing characters and the villains are complex characters that you one moment feel sorry for and the next, want to stab till they're good and dead. Even the good guys have their flaws, which makes it very believable.
What I liked most was just that, that you could empathize with every single character in the book. Villain or good guy, they are written in such a realistic manner that each time you read their point of view, you feel the empathy pouring out to them. You want to just send a social worker or slap an adult to get them to notice what's happening, or just say ah you poor bastard, no wonder you're the way you are.
Last words…this is not romantic vampire fiction by a long shot. The book is dark as F! If you go into it expecting young adult…..maybe retire your brain to think full adult. From paedophiles, prostitution, a lot of violent bullying to very gory vampire scenes, it's not for those easily squeamish in any way. But if you can, then stay for the relationships, stay for the humanity and indeed, the inhumanity and for a new twist on an old genre.
The ending is perfect, even when I didn't want it to end. Next, I'm watching the movies because all versions of them are meant to be really good.
Would I recommend it, without a doubt.
*
I borrowed my book from my sister's ever expanding library, and I'm sure it's in every library in the world at this stage. However, if you'd like to purchase it, as usual, this is my affiliate link on book depository. Should you choose to buy your copy from them, follow the link and I'll get a few cents (5%) off my next purchase…show me some love! They have free worldwide shipping to add to their relatively low prices.
Till next book,
M.