Book review: December Girl by Nicola Cassidy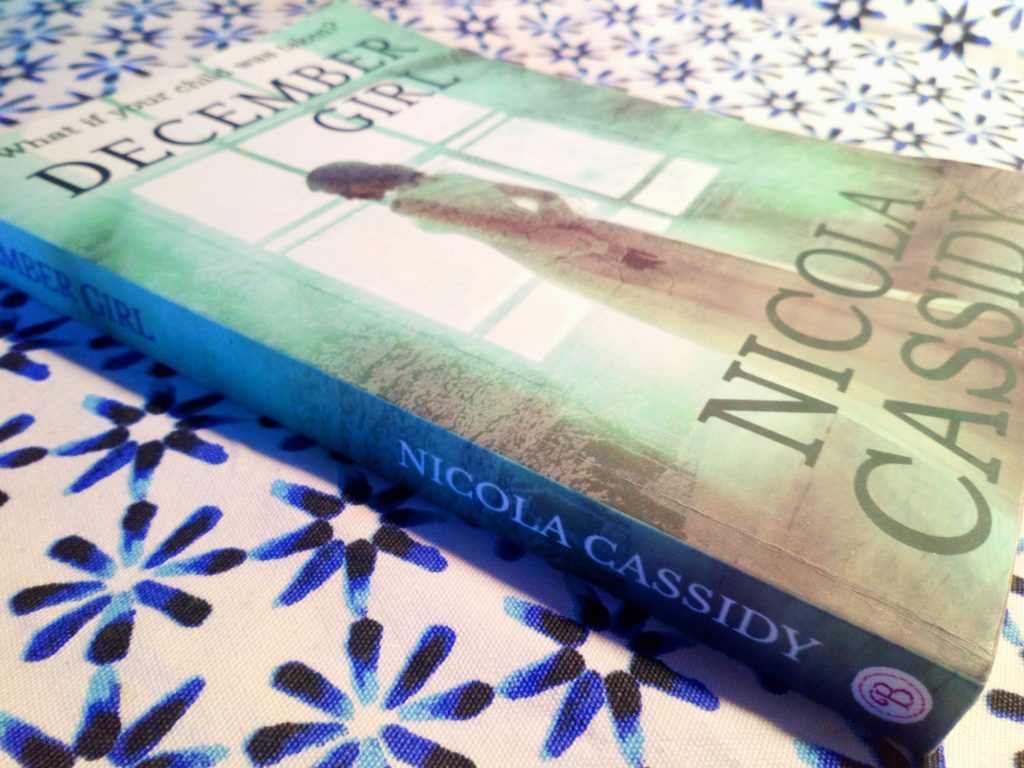 I actually meant to write the review for this book last December, which is when the writer, Nicola Cassidy, sent me on a copy of her book. I can embarrassingly hold my hands up and say I didn't get a chance to do it at the time because I bit off a lot more than I could chew in my professional and personal life and blogging was put firmly on the back burner.
Then between one thing and the other over the year, I just haven't had the time. But it has been eating away at me because I do not like to break promises, nor holding on to promises I said I would keep
So anyway, I think this month being the #ReadIrishWomenChallenge month is the actually the perfect time to write a review for this book, and a good time to read it too. So here goes. Spoiler free review of Nicola Cassidy's debut novel, December Girl.
Synopsis: Molly Thomas is a feisty, independent soul, born on the Winter Solstice. At every stage of her life she has faced troubles. As a young woman, her family are evicted from their home at Christmas. Molly swears vengeance on the jealous neighbour and land agent responsible, Flann Montgomery.
Then in 1896 her baby son is taken from his pram. While Molly searches the streets for little Oliver, the police are called but her baby is gone.
Why does trouble seem to follow Molly? And will she ever find out what happened to her child? December Girl is a tale of family bonds, love, revenge and murder.
Publisher: Bombshell books
Pages: 293
Author Country : Ireland, Irish.
Review:
This is a historical fiction novel, and once I used to love the genre, I haven't read a novel that delved into the past in this way in years. Okay, no, I lie, I read them all the time. I meant to say I haven't read one that delved into the English, American, or Irish past in a long, long time.
This book reminded me why I read so many of them as a teen and in my early twenties. While the book doesn't grip you in the first couple of pages ( I was completely and utterly lost in the prologue that's set in circa 3,200 BC), it more than adequately makes up for this from the first chapter on. Well written, sad, very dark in parts, it was an easy and enjoyable read that I read quite quickly once it got into the flow of the actual story.
The story centres on the life of Molly Thomas, an Irish girl, growing up in the last 1800's on a farm in Ireland. At a very young age, a massive injustice is done to their family, Molly vows to seek vengeance and this has a ripple effect throughout her life. Through other circumstances, she finds herself in London, slowly trying to build a new life for herself, when her baby is stolen, taken from his pram on a very ordinary day. This is not a spoiler, it's on the back of the book, so relax, I haven't spoilt it for you at all. As a main character, Molly is well fleshed out. I liked her in parts, didn't understand her in others, tutted at other parts, but overall, believed in her realness. You can understand why her motivations, her anguish, her despair, all are believable even if you didn't live in that time period and even if you end up not really liking her, which I didn't. But I got her, and that's always vitally important in a book.
And here's the thing, the time period is very well written. The writer injects as much reality as she can as we flit from decade to decade, from past, to present. You could tell that the writer put a lot of work into bringing this world to life for the reader. The move between time periods can be disorienting if you're unfamiliar with this format, but if you are, then it's fine. 
My main two criticism were the following: The book also has two other side characters. We change from one to the other a number of times during the book, but I felt we really didn't have any motivation for the other woman. I didn't like her, not one bit. You're probably not meant to, but most importantly, I didn't understand her either, so she seems a bit surplus, but that's me. The male character, Henry, is nearly necessary to give us more context to Molly's later life. We get a real sense of who he is and he's likeable, funny, and served well for the story's purpose. The reason for Molly moving to London. I'm not going to tell you what it is, because that would really be a spoiler, but, I didn't…like isn't the right word here but is the only one I can find at the moment. The use of this to move stories along, to give women dilemmas…I feel we need to move away from a bit. I don't know what we could as humanity, replace it with, but I feel it's…I can't even find the right words. Perhaps it's more a feeling I haven't learnt to word just yet. It just left me a bit disheartened. Don't get me wrong, the writer dealt with it very well and with great care. I just feel a bit …….I don't even know.
It's a book that covers a lot of emotion in a very well balanced, very thought out way and was a joy to read. Would I read it again? In a heartbeat. Would I recommend it to a friend? Without any hesitation.
*
I received a copy of "December Girl" in exchange for this review. All opinions and images are my own.