Here's to healthy home grown produce…I hope.
Have I told you yet that I used to have the un-greenest fingers ever? I was known to kill cacti, it was so bad.
But something has changed.
I guess the major change in my life has got to do with the way I have been making changes to the way I eat. Before Roz was born, I could go days eating junk, or not eating at all, or having lunch at 1pm and then dinner at midnight. There was absolutely no consistency around food in my life.
It wasn't even a matter or dieting in the fashionable "I'm on a diet" sense of the word. Most times I couldn't be bothered to eat, other times I ate more because if I didn't eat, I wouldn't be able to concentrate, and the majority of the time? I ate whatever was easiest to prepare, because after years of cooking for family and when I had no desire to cook, I had had enough of cooking.
When I lived in England, I swear for one week all I ate was toast for breakfast, a pack of smoked salmon for lunch, and custard rice for dinner for a whole two weeks. It was insane.
I was insane.
But I guess being responsible for someone else's life has made me more conscious of how important diet is to your general well-being, and I'm determined to give Roz a semi balanced diet.
The other thing is that I have realised just how much I took food for granted growing up. We always grew our own vegetables growing up, and most o the time knew exactly who had grown the meat we ate and have off and on kept our own chickens from the time I was little.
But in this developed world where I find myself, the more I learn about how mass food is grown and produced, the longer it takes to buy groceries at the supermarket because I just can't trust any food they sell anymore. I watched a documentary online a few months ago that was talking about the myth of low-fat foods and how much sugar is in our foods and it made me quake. Then I started to read an absolutely brilliant book by Ramiel Nagel that basically says tooth decay is mainly caused by poor diet. (It's called 'cure tooth decay' and I highly recommend it) and I nearly wept. I don't even know how to tell you how much my teeth have given me problems since I left Zambia. They weren't exactly the strongest teeth to begin with but combine my diet with the near billion trips to the dentist I've taken since I left and it doesn't take much to see that he's right, and diet is linked to the health of one's teeth.
Well anyway, I decided that having a shot at growing my own veggies didn't sound so crazy after all. When I was home in May, I asked my mum to give me some seeds for my favourite veggies and three weeks ago, I started my own balcony garden. so here it is in pictures: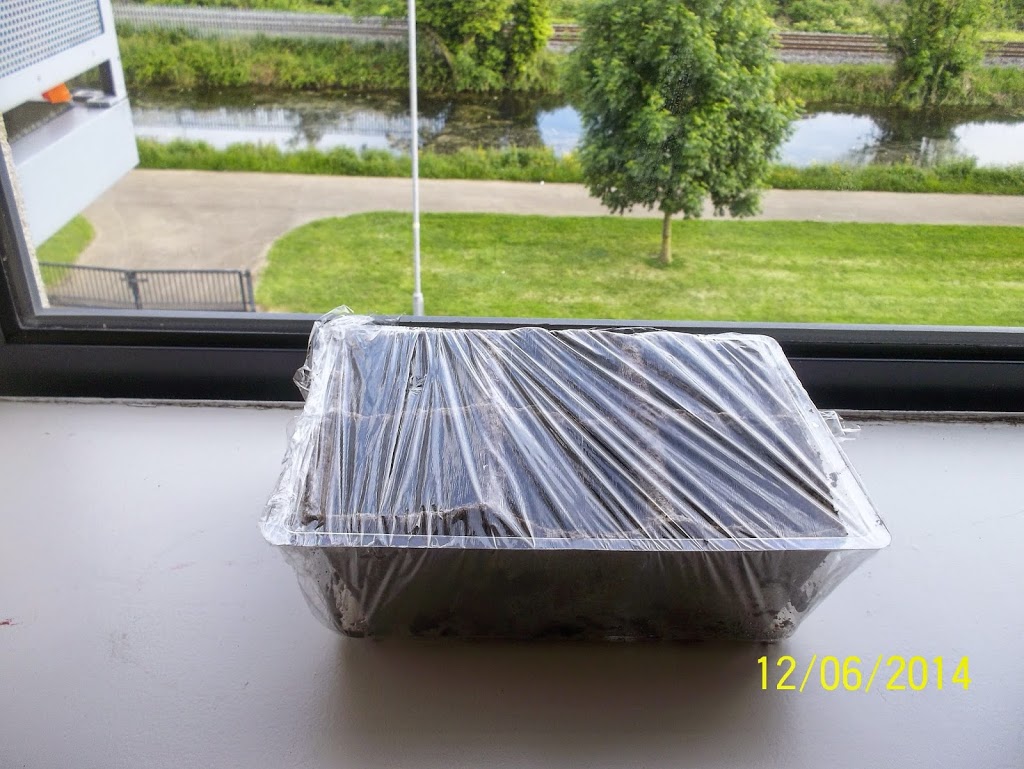 This is the tomato and Basil combo in its seedling tray.
So to your left is the tomato and seedling tray that I started. We got this kit in Ikea last year towards the end of summer. it was already getting too cold to grow anything at the time so we decided to wait till this year to try anything.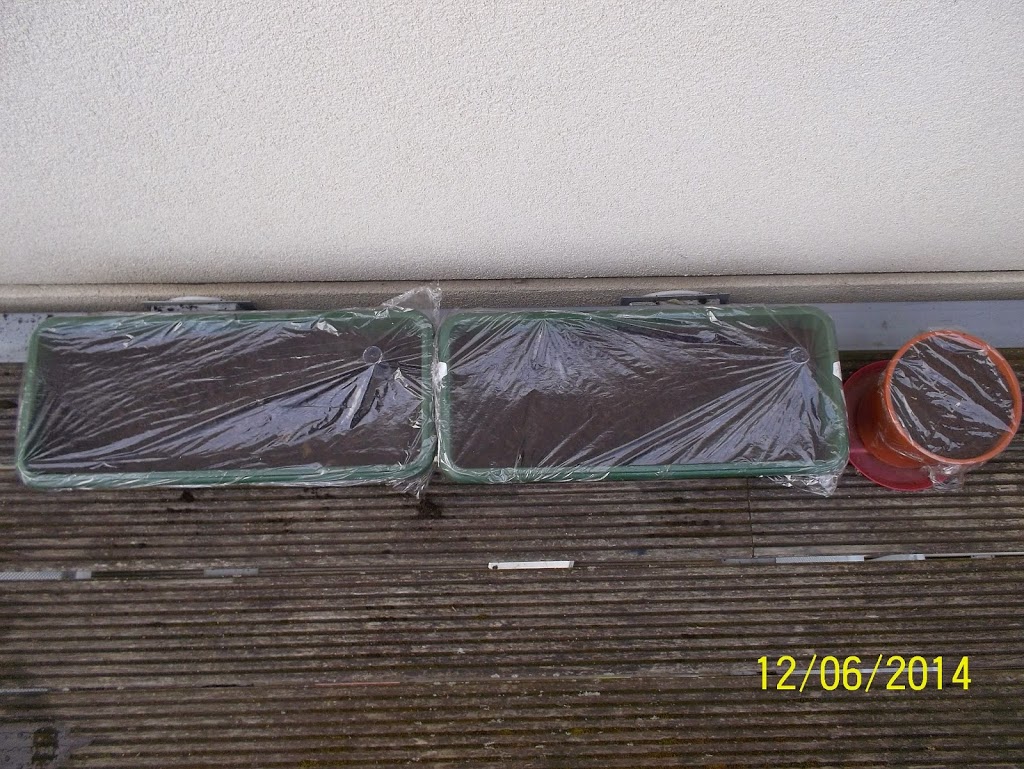 I had to cover them to keep the moisture in.
To the right are my balcony planters with my Zambian veggies growing. most Zambians will know which plants I'm talking about when I call it "lepu". I wish I had looked closer at the seed packet because I truly have no idea what this vegetable's scientific name is. Ah well, any Zambian reading this will know which veggie I mean and can hopefully tell me the real name.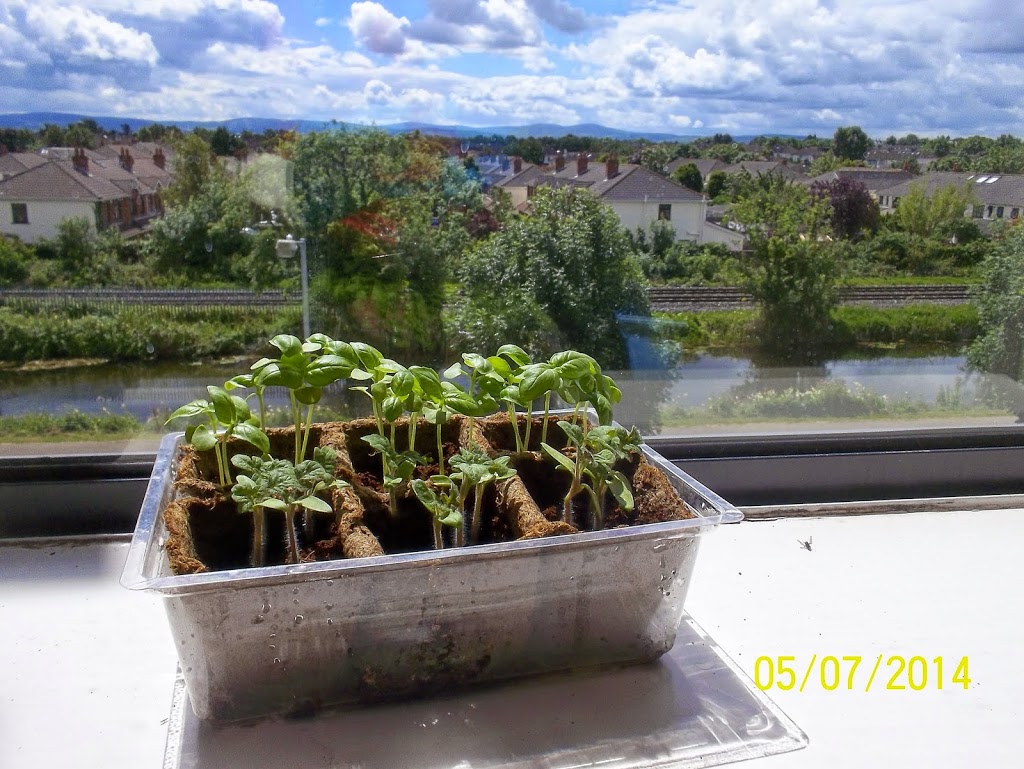 Hooray! We have lift off!
Here's a picture of my baby tomato and Basil plants taken yesterday. I'm o proud I haven't killed them. And that Roz hasn't yanked them out.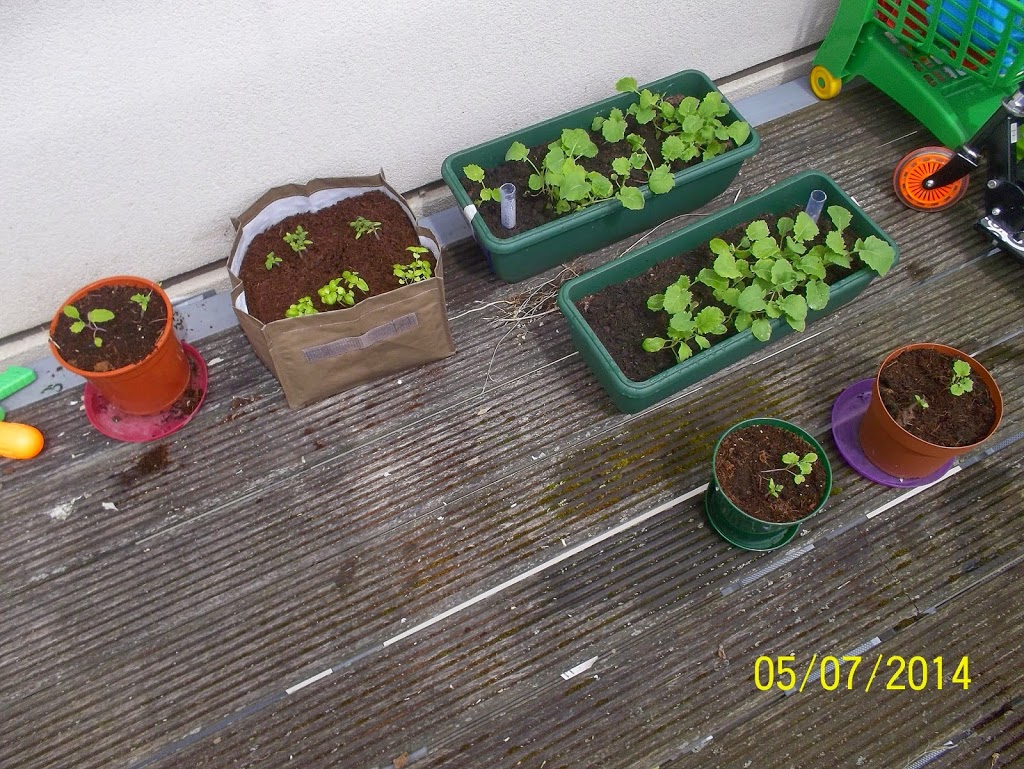 The tomato and basil are in the brown planter bag while the rest is "lepu"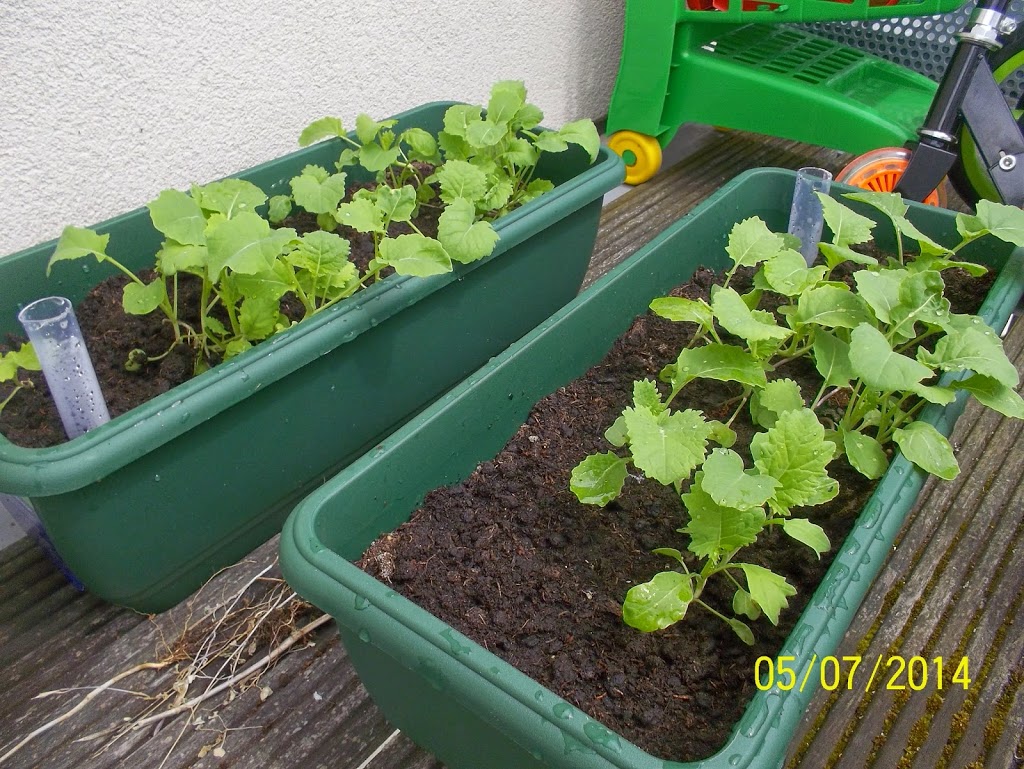 A close-up of my lovely green veggies.
And here we go, my little balcony garden with the tomato and Basil transplanted from their cosy windowsill to the balcony.
And the final picture is a close up of my veggies. I couldn't resist. look how lovely and green they look! Oh I cannot wait. It's getting slightly chilly so this unpredictable Irish weather better not kill them off!