Netflix Streamteam: What's on in August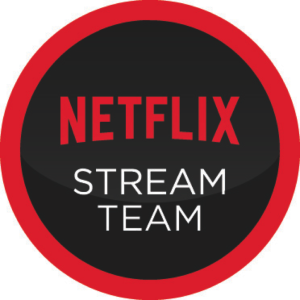 These days, most of my day is dominated by breastfeeding and Netflix.
Now there's a group of words you may never have thought to put together. No Netflix and chill round these here parts. Only Netflix and breastfeed, but it's been a lifesaver. When I was home with Roz six years ago, I was definitely not putting my watching hours to good use. This time around there's no such error. I suppose the last time the on,y place I could watch anything was on TV or on my laptop, which had no battery so wasn't really technically a lap top anymore.
This time round, there's TV, my newer laptop, a tablet and phone all with Netflix.
It's great!
I am now convinced that the greatest thing since sliced bread has surely got to be the Netflix app.
Seriously.
Mid night feeds are a lot less stressful when I get to watch an episode of The Good Wife ( how on earth did I not watch this when it was on the telly?) until the baby falls off like a well fed leech. And I love how all the devices synchronise so that if my phone dies mid episode, I can switch to the tablet and voilà, start right where I left off. That's the best bit.
So, since I'm watching so much, I'm not even going to pretend to be ashamed of it. I'm taking a break from mindfulness and being in the moment to escape to different worlds instead, in between gazing at this gorgeous creature I have ( I had to put that in there if you're imagining me zombie like and not interacting with her or something. Not that the Internet isn't filled with assumptions and judgements.)
But I digress.
So, I'll probably do a post each Wednesday to fill you in on all the shows you're missing while you're out there in the world.To start, here are some of the shows that gave been added to Netflix in late July/ early August.
For the adults
Back to the future 1,2 and 3 
…..are now streaming on Netflix. Need I say more? One of my favourite movie trilogies EVER!! Well, to be honest I could pass on number 3, but 1 and 2 are flawless.
Star Trek from the original series through to Star Trek:Enterprise.
Scream!! As a Trekkie, I was very excited about this and have already started watching the original series that's already streaming.
All 727 existing episodes of the iconic "Star Trek" television library – including "Star Trek: The Original Series," "Star Trek: The Next Generation," "Star Trek: Deep Space Nine," "Star Trek: Voyager" and "Star Trek: Enterprise" will be available on Netflix around the world by the end of 2016.
Grey's Anatomy.
I've never watched a single episode. I'm told it's really good though, so have added it to my list. If you loved it, here's a chance to re watch all the episodes.
Power.
The image has teased me for a while, and yes, I'll admit that sometimes I want to watch a series dominated by people who look like me. I can't relate to this world of drug dealers, FBI agents and double-crossing, but yes, it's comforting to look at women with my skin tone and get tips on what makeup and clothing colours would look good on me too. what can I say? #representation matters. It's a great series and season 3 is now streaming with a new episode each week. I've just bingewatched seasons 1 and 2 and looking forward to it!
Good Hair.
This Chris Rock documentary must be watched by every single black person on this planet. I wrote before about my struggles with hair, and this documentary really opened my eyes to the hidden prejudices, the expenses, the horrible messages we give black girls about their hair, even before the wider world chips in with its own rubbish undermining opinion on black hair.
David Cross: Making America great again.
I adore David Cross. He's one of the funniest actors I have seen, and I'm looking forward to watching this live stand up show. I loved him in Arrested Development as Dr Tobias Funke. When I saw that I could potentially get a Master's degree in Psychoanalytic Psychotherapy, my first thoughts went to him. If you've watched the show, you'll get it.
You can watch the trailer for his stand up here.
For the kids:
Home: adventures of tip and oh.
Roz and I love the original movie. Not only because it has a very believable heroine, but because this was the first relatable character that Roz saw. I'm taking non princess, curly hair, brown skinned….see, even for little ones, no, especially for little ones, #representationmatters. I don't like that they changed Tip's mother though…
What happens after a misfit alien named 'Oh' conquers Earth, befriends an adventurous teen girl named 'Tip' and together they save the day?
Oh moves in with Tip and her human family and finally discovers the true meaning of home. The galaxy's dynamic duo are back in DreamWorks Animation's HOME: ADVENTURES WITH TIP & OH, an all-new Netflix Original Series jam-packed with outrageous laughs and tons of heart. Life on earth will never be the same!
Check out the trailer here
The little prince
Based on the 1943 novel of the same name, director Mark Osborne brings you the first-ever animated feature film adaptation of Antoine de Saint-Exupéry's iconic masterpiece.At the heart of the beloved story is a young girl and her overbearing mother, who is preparing her for the very grown-up world in which they live – only to be interrupted by her eccentric, kind-hearted neighbour, The Aviator. The Aviator introduces The Little Girl to his new friend The Little Prince, and a world where anything is possible.
Check out the trailer here.
Beat bugs
Already a firm favourite in our house, Roz is already singing Penny lane, All you need is love and other Beatle songs.
Inspired by the songs of The Beatles, Beat Bugs tells uplifting and life-affirming stories filled with hope and melody. The animated show follows five best friends who together discover life's most important lessons in an overgrown suburban backyard. The Beat Bugs live out these childhood adventures to the words and music of The Beatles.
Check out the Trailer here
Masha and the bear: Season two
We loved this show when we used to watch it in Russian on YouTube, and we're delighted when it was added to Netflix. A very lovely series based around Masha, a feisty little girl, and her reluctant friend, the patient bear. Season two is now streaming.
Disclosure: As a member of the Netflix stream team, I was provided with an Appletv and one year's free subscription to Netflix and will post regular reviews in return. However, all opinions are and will continue to be my own.