Oh, the places she will go!
Today my little baby, who was no more than a mewling, pooping babe in my arms four years ago, finished preschool.
It was very emotional. Remembering her first week last October when she cried her eyes out every day walking to the creche because she missed her old creche so badly. Me going to work every day feeling like absolute poo for leaving her in a place she did not want to be. And gradually watching her blossom into this outgoing, bubbly, cheeky and sometimes mean, jealous and  little messer of a nearly five year old.
I can't help but still see the baby I had and wonder if she's really ready to go out into the more structured world of formal education.
They put on a little concert, singing songs in their little gowns (black adult shirts with the sleeves rolled up – how creative is that? ) and received their little decorative scrolls. And later they released balloons depicting their wishes and hopes for the future (I tried not to let the horror of the eventual pollution – sorry, I just couldn't keep it out of my mind!- get to me) and as we stood in their little playground, I realised that despite the guilt that every working mum feels, when you subcontract your parenting to people who love your child and care about their well-being, it makes it that much easier to bear.
This is one of many steps, of many endings that will happen in her life. I couldn't help but think how,therapeutically, endings are of such great importance. They allow us to grieve for what we are losing, to celebrate the achievements we have had, to acknowledge how far we have come, the wisdom we have gained and the people who have accompanied us. When we end anything well, be it a relationship, a piece of work, a journey, or even yes, preschool we are giving ourselves the tools to move forward with no baggage weighting us down.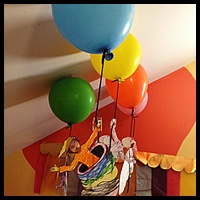 She's still in next week because I have to work, and I wish with all my heart that I could have taken the time off to give her a proper little holiday at home before she starts primary school, or "big school" as it's called here, all of next week, but such is the life of a very busy working mama.
And I refuse to let that get me down. This is her ending, and we'll get another one, a fuller one, next Thursday when we say goodbye to her minders/teachers. Perhaps our paths will cross again and maybe they won't but to the Giraffe staff, You guys, all of you, have been AMAZING!
Thank you, for taking such great care of my most precious person.