The first rung of school has been climbed – Hooray!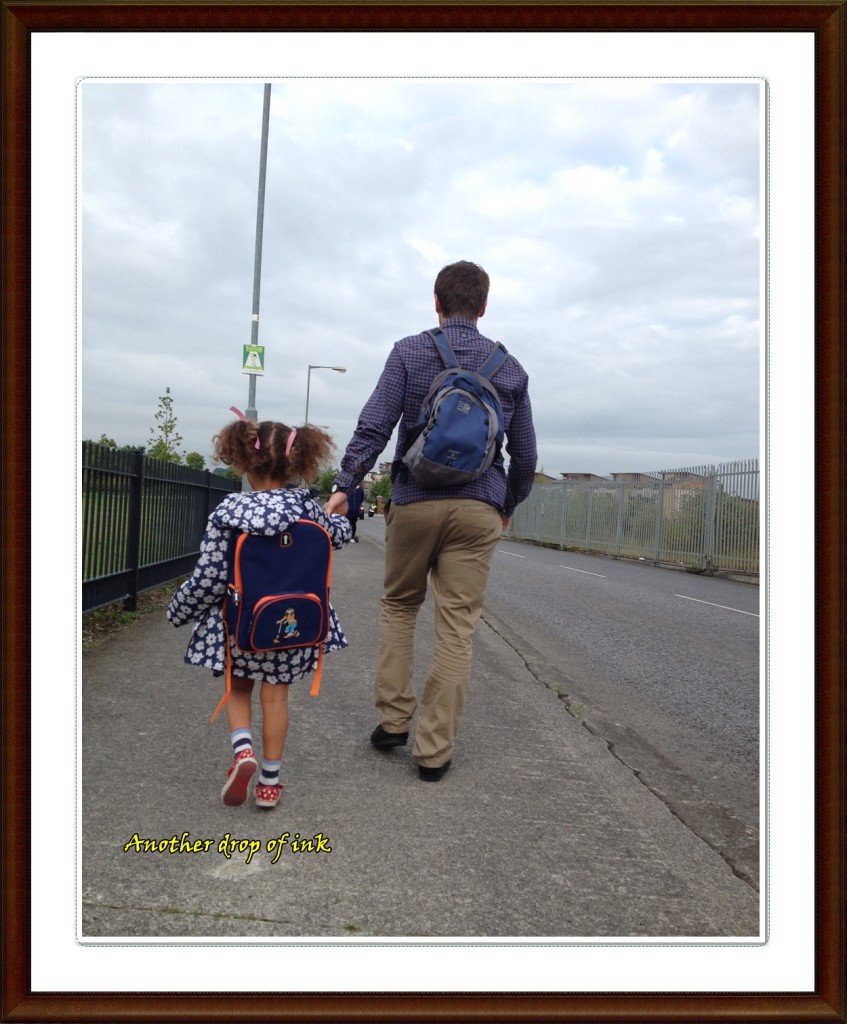 It was a very strange start to the day. Roz opened her eyes at exactly 7:33, gave me a big smile and said,
"Today is big school!"
What better way is there to start the day? None in my books.
She had her breakfast and for once, allowed me to brush out and put ribbons in her hair. Her hair is usually a no-go zone for me. I'm allowed to wash and brush it twice a week and not allowed anywhere close between those times.
"I'm not a big dolly mummy", I'm often told and I want to say,
"Ah come on kid, that's the whole point of having a daughter! A real live dolly. You're ruining this for me, ruining it."
But I don't.
And today I was not only allowed to brush it, but also put ribbons in it, in honour of her first day.
I was not, however, allowed to pick any of her clothes. That is strictly her department. I ask her politely if she'd like to wear the new skirt I got her and tried not to look too enthusiastic, because then I would just scare her off. She cocked her head , looked me square in the eyes and, lifting the shorts she had chosen, said,
"Mummy I want to wear this skirt which I choosed. Do you want me to wear that one?"
(I will mourn the loss of her grappling with tenses, it's so effing cute!)
I put on my most solemn, non pleading face – hey, it's a really nice skirt! – and said,
"Yes, I would really like you to wear this skirt. Look, it even matched your top". And it did!
"Well, it's my choice and my choice is this one", she said putting the shorts she had chosen on.
Win some, you lose some. At least I got to play brush her hair, right?
We got the bag, we put on our shoes, checked the weather and left the umbrellas at home, and got on our way.
We did the walk yesterday to meet the principal, teacher and classrooms so we knew how long it would take and arrived just in time to have a quick oooh and aaaah.
I'm not a crier, I'm not. Not about stuff like this. I used to worry there was something wrong with me but I've made my peace with it a long time ago. I'm more of a lie down in a quiet room kind of person when I get too emotional, so I knew I wouldn't be crying today, and I didn't. What surprised me is that the media always goes on about mums crying on the first day and yet I only saw dry eyes all around.
Perhaps it was because we've all come from the community and it's a very small community where you're bound to see everyone in the playground once in a while. Or maybe it was because mos of the kids already knew each other from the preschool and saw each other only last week, maybe it's because there was such an air of absolute excitement and happiness in the air that it was hard not to get swept up by it and get lifted clean into the clouds by the giggles and the chats and the delight n being with old friends and new that the kids just ran around deciding who was going to sit where and do what. We had to get gently shooed out of the room by the teacher as it felt too infectious to leave all  that happiness behind.
Day one was only an hour long, so a coffee, tea and whatever else later, we were back to pick them p. Boy were  they pissed! Roz clearly did not want to leave.
Did I mention she had told us to leave the second we got there?
No?
Well, the second we got her to school, she asked very kindly that we leave.
We went to the playground, and her and her cousin refused to be separated so they both came over to mine and played and played. And wouldn't be separated till a promise was extracted from my sister that Roz would go over to their house tomorrow after school to play.
Krzys took her swimming in the evening while I finally got a chance to put my feet up and…batch cook even more food for the week, and typically, just as I had my coffee ready and sat down to enjoy it, they returned.
Such is life. I am exhausted and glad she had such a great day. It's wonderful watching her spread her wings that little further away from her little nest. And even though there is a pain of realising she is no longer my baby, there is also the pride of knowing she's now my little girl.
And I'll tell you one thing, after all that busyness today, it only took about five seconds and she was out cold.