You'll miss them when they're gone
Yesterday I was in the city. I haven't been in the city, with an idle hour to burn, in a very long time. So I took my time walking slowly and had a tea near the spire, peoplewatching.
Well, fashion has definitely changed in the ten months since I mingled with the hip people of Dublin. What's with the ripped jeans look? I wasn't aware it was fully back. I did see a random person or two during 2016 but I wasn't aware that it was now a "thing" across men and women when I'd predominantly seen it on teenagers.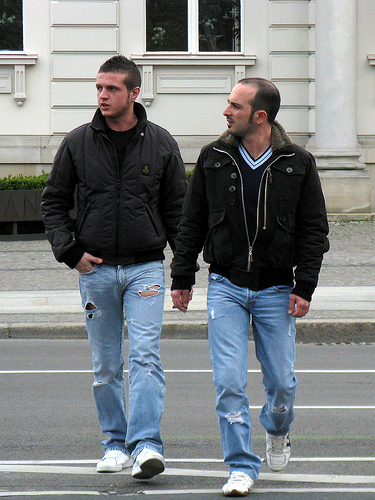 So fashion really does come full circle.
The first time I ever saw ripped jeans I was about nine years old and it was a glamorous girl walking to the shops in woodlands shopping centre, walkman in hand and looking cooler than I'd ever in a million years hope to look.
Well, I still feel the same. I'd never pull that look off.
Especially not in this cold climate.
I'm constantly in awe of people who can defy the weather, or not be as affected by the cold as I am.
But mostly, here in Ireland, I am in awe of people who let their joints out to the slicing Irish breeze. The kind of breeze that delights in finding every bit of exposed skin on your body and turning it to ice.
And when I saw the number of rips that are around the knees, well, I shivered. I salute those brave souls.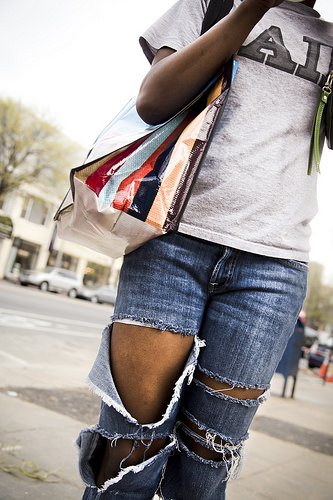 All I could think of was the line in Mary Schmich's famous speech.
Be kind to your knees,
you'll miss them when they're gone.
photo credit: ЯAFIK ♋ BERLIN Sunday walk. via photopin (license)
photo credit: thisisbossi 2014 04 14 – 2098 – DC – P St Candids via photopin (license)