Dublin MC Comic Con
Where do I start? We had a fantastic day!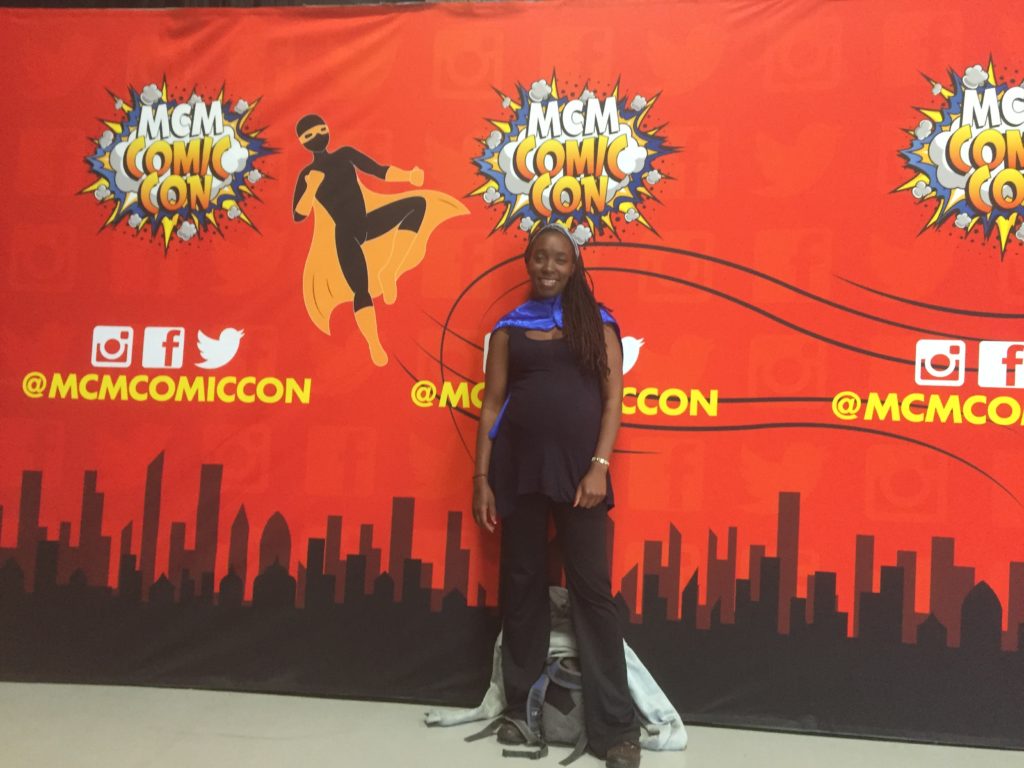 This was our second year attending the event and it was Awesome! Last year we went on a Saturday, and it was packed to the rafters, but this year due to various reasons, Roz and I headed over on Sunday. It's not really Krys' "thang" so while he got a day off to himself, I got to spend a great day with the child in tow, doing what I would enjoy. I think this is very important by the by, that your child sees you and experiences you doing things that you enjoy.  that you're so much more than just their parent. So since Saturday afternoon was spent taking her to a birthday party and hanging on there while she had the time of her life, I was feeling zero guilt at dragging her to spend a couple of hours doing my version of fun.
This year since I'm currently nine months pregnant, I decided not to cosplay. booo! I did think of dressing up as the unfortunate, heavily pregnant Lori Grimes from The Walking Dead, but erm, after thinking I might have to white-face and I have issues with black-face, well, lets just say I left that where it was! Roz very helpfully suggested that I could have gone as the Ice King from Adventure Time, just an hour before we had to leave….I could have actually gone for that had I been given the idea sooner…. Santa claus beard, a long pointy nose, some blue face paint, some yellow paper for the crown….doable.
But I didn't have time, or energy, to do anything. Roz decided (thankfully!) to go as Elsa at the last minute. Though I tried to persuade her to go as Anna  since the hair would have been easy, but oh no, she was having none of that. A girl knows her own mind. And considering I was supposed to have turned her into a Kiyoshi warrior from The Last Airbender, I was not going to argue with her.
So we headed over to the RDS at eleven thirty and didn't get back home till past six.
It wasn't as busy as it was last year, vendorwise, which was a relief on the pocket to be honest, but what was there was oh, so tempting! With a small child I didn't get to go in to any of the panel talks but walking around and seeing all the fantastic cosplay outfits was the highlight of our weekend last year and this year too.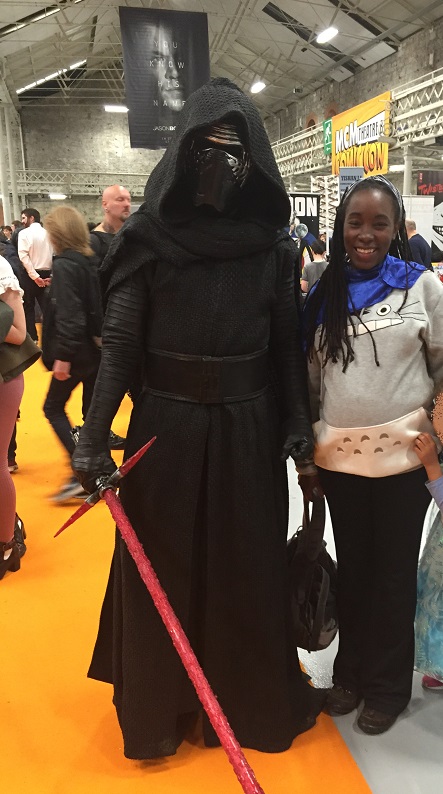 It was a very family friendly event last year, and this and I have to say that all the cosplayers are just infinitely nice, posing to take pictures at the drop of a hat and willing to take pictures in return.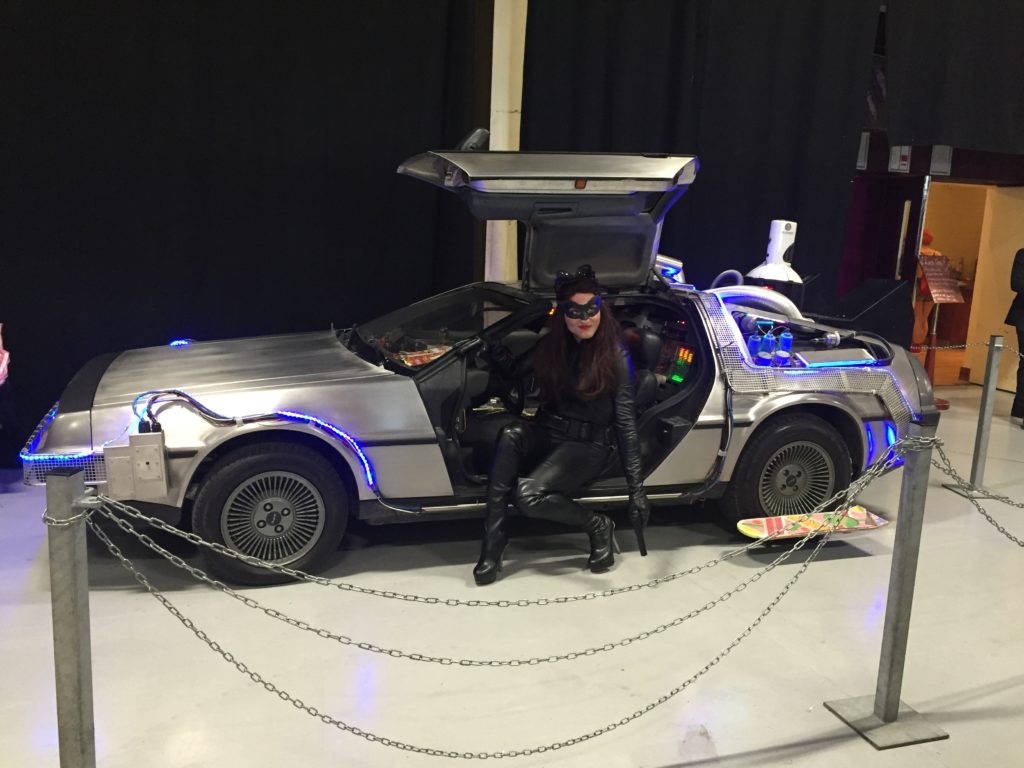 There were a lot of Star wars cosplay, between storm troopers and especially of Ren, of all ages, which was cool, Those were the most popular on the day. Most of them were hand-made outfits which was even better. Lots of Bat man, lots of quirky ones I have no idea of but all very awesome.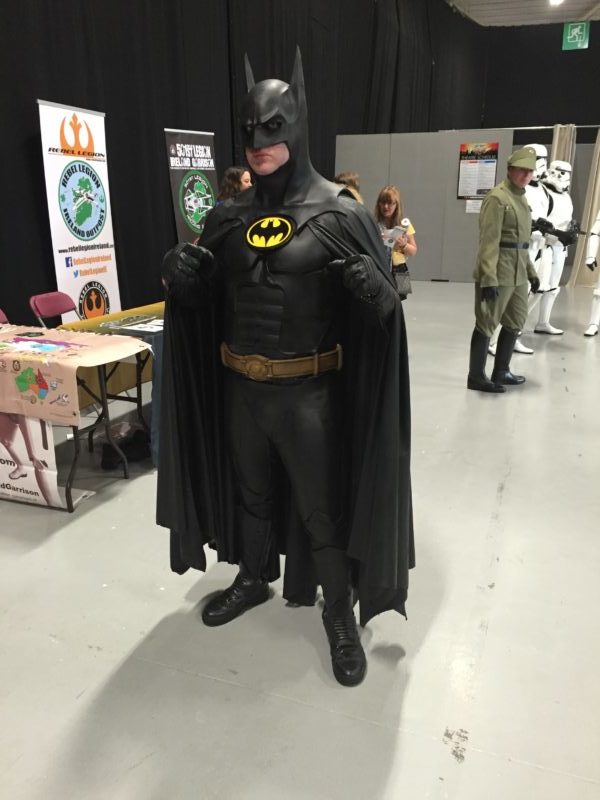 The kids' zone area was as usual, excellent and I think we made the right decision approaching it late in the day because the loooong free face painting lines that had been there last year, and even when we arrived yesterday, were all but gone. There were two kids in front of Roz and it moved quickly. It always amazes me how skillfully kids will queue up for face painting and other activities at festivals and then throw an absolute fit in a supermarket queue! Anyway, they don't have a face painter at comic con, they have an artist! she was brilliant. I'm not going to show a picture though because it was on her face, so you'll just have to believe me. They also had a temporary tattoo stand where Roz insisted that I get the same tattoo as she did, so I had to oblige. It's a day and two showers later and they are still stuck fast. Roz is delighted. me….not so much. But goes to show the quality of it. There's nothing worse than getting home and discovering it's rubbed off on the clothing.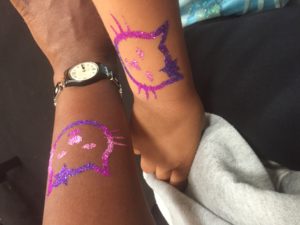 Last year I took loads and loads but this year with the back and the heaviness and not being with a group of people, I didn't take as many, which is a pity but that's okay. The memories live on.
We passed a table at one point that sold the coolest ears and I got a pair for Roz, then thirty minutes later had to go back and get a pair for myself because they were just too cool.
But the coolest of coolest of all? for a tenner I got to do this:
A bit disappointed that they couldn't at least make sure my bloody eyes were open in most of the six pictures I took to be honest, even if it was just a tenner but come on, when next would I get to sit on the iron throne! But I got two kinda decent ones so woohoo!
Anyhoo, would I recommend Comic con, I surely would. It's especially cool if you're into all the buzz, but also nice for those curious about that whole scene. And it's only ten euro in, kids under ten go in free after eleven on Sunday too. And I say only because it really is worth the fun.  I'm looking forward to next year's event and also hoping to grace the London one. Fingers crossed. And Roz and I are already planning what we'll wear at next year's Dublin event. I'm thinking Michonne again, with baby Judith, she's leaning towards Go go Tomago from Big Hero six…no pressure.
The best thing was when Roz declared,
"Mama, this is the best day ever!" as we rode back exhausted on the bus. I had to agree wholeheartedly.