I don't "do" new year resolutions
Did I cover this already?
I think I did,
you know, about how I make most of my resolutions on my birthday?
If I didn't, then erm…I usually only make new year resolutions on my birthday.
But, but, but!! my favourite thing to do on new year is to have a lovely meal, home cooked by yours truly.
so here is my first 2013 meal in pictures: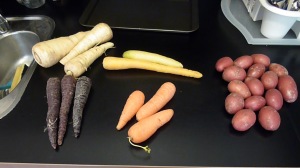 Clockwise from the top left we have Parsnips, wild carrots, mini rooster potatoes, wild purple carrots and regular domesticated carrots
Short peice of useless information. Did you know that carrots are originally thought to have originated in Afghanistan and were a purple colour like the ones I bought? More information can be found at the carrot museum website here.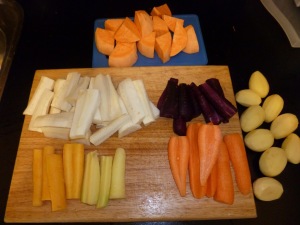 All chopped and peeled and ready to go
I had to add sweet potato. it's my all time favourite root vegetable. It's on the blue chopping board.
I don't ordinarily cook lamb but when I found this special offer in the shop the day before…
all ready for the oven.
Honey roasted carrots and parsnips…mmmmmmm
Sweet and rooster potatoes roasted in goose fat….double mmmmmm
Letting the lamb breathe for five minutes as per instructions…the veggies that were with it didn't fare too well..
Time to dig in.
It may not look like much, but it was delicious!
A belated happy new year to all.