Movie review: Alexander and the Terrible Horrible No Good Very Bad Day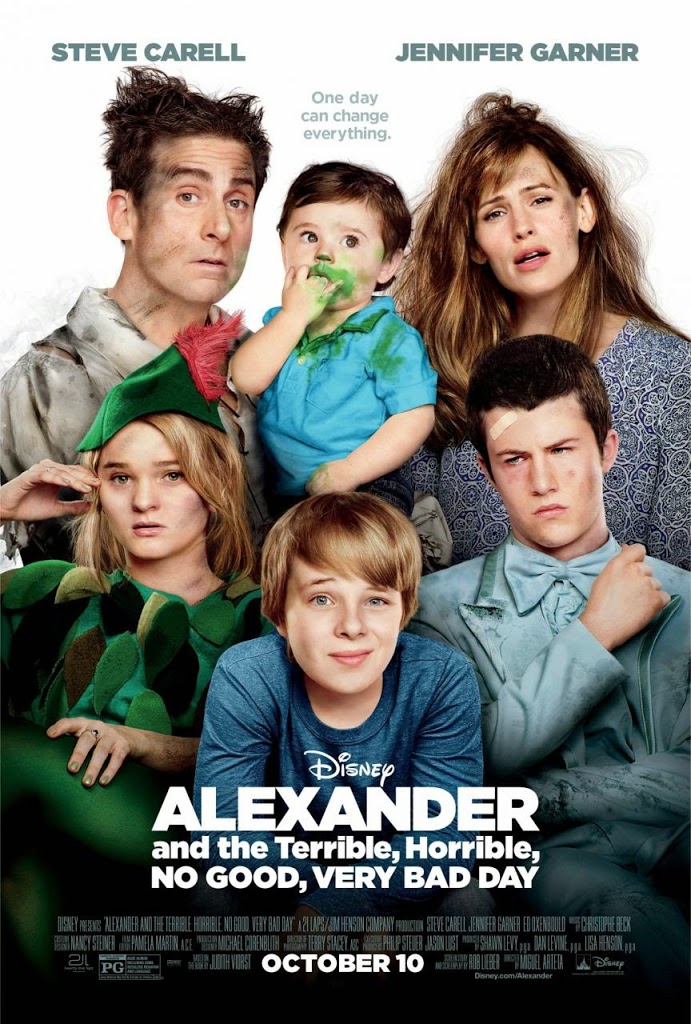 I sometimes forget that Disney produce really nice, feel-good family movies. They are so well known for their cartoons that yup, I just plum forget. Especially after movies they like The prince of Persia and John Carter, which shall remain unnamed…oops! There was nothing fundamentally wrong with the movies themselves, just…It's Disney!
So when I got an offer of tickets for the preview of Alexander and the Terrible Horrible No Good Very Bad Day, I was in two minds. I hadn't warmed to Planes 2 and I didn't want Roz bored out of her mind with a live action movie, yet the movie stars Jennifer Garner whom I love, and Steve Carrell who I still find very very funny, so it had to be good, right?  Then inspiration hit me, My nephew and I hadn't been out on the town together for a while, I'd take him. He was (as most ten year olds do) playing it really cool when I asked, and Roz was over the moon that she'd be going with her cousin, whom she adores, to the cinema. So either way, the movie was going to be enjoyed.
So last weekend, my nephew stayed the Friday night with us and Saturday morning,the two of us went into the city (Roz abandoning us for a forest adventure with her dad and friends).
Based loosely on a 1972 book by Judith Viorst of the same name, The movie centres on one day in the life of Alexander, a young boy who, the day before his twelfth birthday, has a really bad day when the rest of his family seem to have the perfect day. He wishes they could understand how he feels, and that sets teh stage.
Jennifer Garner is very good in it, as is Steve Carrell, but the kids, all of them shine in this movie, especially Ed Oxenbould who plays Alexander.  I actually had moments where I was laughing my ass off, and was joined by my nephew as we elbowed each other and held on to our stomachs with laughter.
I don't want to give too much away because it really is worth going to see, especially for preteens, but would suit any age group. I even think Roz would have enjoyed it. I must mention that perhaps some of the material may have been a bit risque for Disney, a teenager getting drunk/high? on cough syrup, a few (for kids) edgy words like "this sucks" and whatnot.
But overall, it's a perfect movie as we enter these dark winter days, and has a positive uplifting message that shines through the coming darkness… the title may seem dreary but the movie is lovely.
Disclaimer: I received free tickets to the preview of the movie, but the opinion above remains, as always, my own.