A Small-Town Girl by Diana Anyango – book review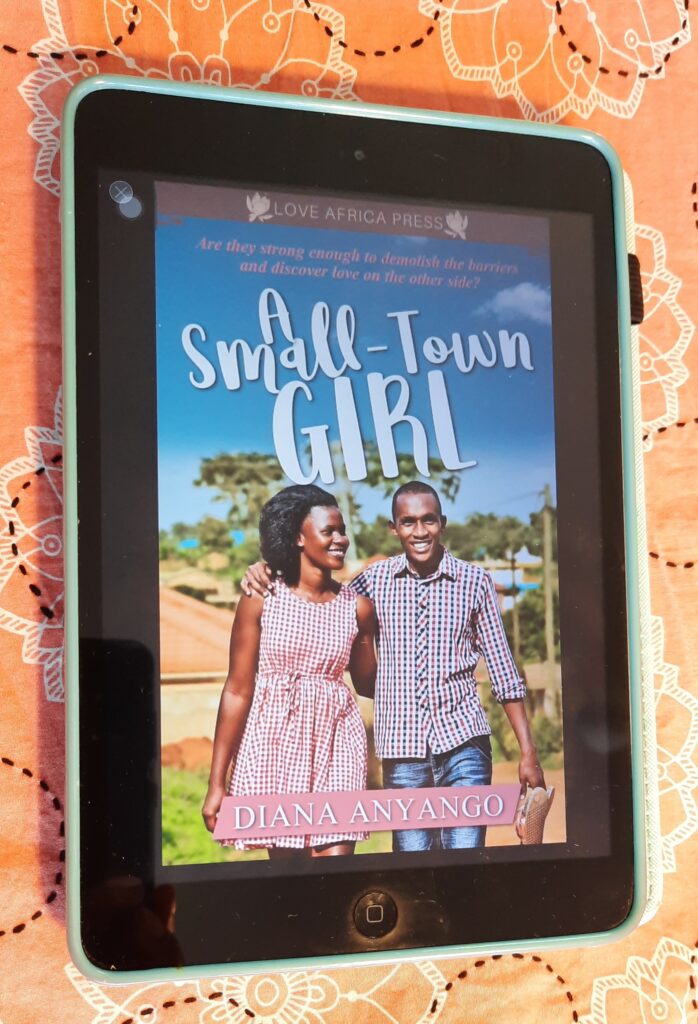 Title: A Small-Town Girl
Author: Diana Anyango
Pages: 203
Genre: Contemporary Romance
Tropes: small town, ranch/cowboy, military veteran
Publisher: Love Africa Press
 Blurb: Lucy Akinyi returns home to lick her wounds after a bad breakup and finds purpose in advocating for children's rights. But the hurt has left her slow to trust and almost numb to love.
Adams Okal goes into the heart of Kachieng' to set up his dream ranch and have some peace, away from deception, war, death and despair. But without the army, he feels like a blind man groping in the dark and starts to feel lonely without his family until he meets Lucy.
Their physical attraction makes him want her. Yet, Adams can't settle for a brief liaison. Lucy pulls his heartstrings like no other. However, she is resistant to getting entangled with a man in uniform. Are they strong enough to demolish all the barriers and discover love on the other side?
MENTIONS: Child abuse, sexual assault, gender-based violence, death of a loved one, PTSD and suicide.
Review: The story is set in Kenya in what I assumed is modern-day times, though there was no mention of mobile phones, social media, or anything else that would indicate this so now I'm not sure. Told from the point of view of two main character, Lucy Akinyi – though we know her as Akinyi for most of the story- and Adams who is her love interest. The genre is strongly Happily Ever After (HEA) romance so there's no surprise about the ending, only how the main characters get there. To be honest, it does exactly as the blurb says it does, which is what you want to see in a straight–up romance.
This was the first book I have read that comes with trigger mentions, which I felt was a nice touch – you go in with your eyes open and don't get sideswiped by child abuse and sexual assault unexpectedly in a romance novel. So that was good.
The story opens with Akinyi who, following a bad breakup of a long relationship, moves back to her small hometown to live with her mother. She's walking home with her friend Adhiambo one day when she meets Adam, the handsome stranger who's just arrived in town. Instant attraction occurs on both sides, but Akinyi has other responsibilities, and romance is the last thing on her mind. Adams is an ex-soldier fresh from war and wants to make a new start away from everything, and longing for a family of his own.
A situation develops around a child and an old man in the small town, and no one is willing to take action except Akinyi, who steps into the line of fire for what she believes. It ends about as well as one would expect in a small town where people are used to turning away and minding their own business. It does however, lead to Akinyi meeting Adams again, which provides enough glue for them to get to know each other. The plot meanders through many pleasant and unpleasant turns, enough that the characters come alive to their feelings but, in true romance novel tradition, they never manage to admit these feelings to each other.
What I liked about the book is that it gave a very real sense of small towns and the people who inhabit them. I thought the main characters were well fleshed out and none of their behaviours came as a surprise. In short, they were believable in all their actions. Akinyi is likeable and relatable even though her actions towards the end of the book confounded me. Adams I could take or leave to be honest, but he was very realistically portrayed with enough charm to make the reader understand why Akinyi is drawn to him. It was an easy read that one could finish in a day or dip in and out of without forgetting anything. Predictable in many parts, nothing came as a surprise to me other than the idea that no one had mobile phones! But again, this was me assuming it takes place in the 2000s because that's when the Kenyan army went into Somalia. It would not have added much to the story to be honest; it just seemed…not present. My favourite character was Akinyi's grandmother. The older I get, the more I realise how much change has taken place in our elders' lifetimes and though they have much wisdom to impart, so much of it is at odds with how we live and relate to each other today. And this is so evident in Akinyi's grandmother. I wanted to shake her and snorted at some of the advice she gives her granddaughter, but also hug her for other bits of enlightenment she had to offer. I liked the interplay of Akinyi and Adams' teasing and felt the romance built very well around them and their back stories. The sex scenes were also well written and it's evident the writer took time and care with them.
What I didn't like was that there were a number of typos and grammatical errors in the book. I tend to fixate of this sort of thing. Now I'm no English major but simple mistakes just pull me right out of a story and frustrate me. There were quite a few in the book and all they would have needed is a simple read through by a proofreader to catch the majority of them. It took me longer to read due to this as I was gritting my teeth at each error. The story could have done with more dialogue and less of the narrator telling us what happens. There was also a rush to the end as a few months had been glossed over or jumped ahead to bring the story to a satisfactory conclusion. While they worked fine, it just felt a little rushed and unexplained and gave me a blink and "whaddimiss?" moment where I had to go back and forth between pages to confirm I hadn't missed a few.
What I also didn't like is that sexual abuse and suicide for the sole purpose of driving Akinyi's story. It's my pet hate, so others may find it was just fine, but I find that violence, especially aimed at children and women, should be lessened as a plot moving device if there's no point other than to provide a jump-off point for another character. In the story itself, I found the conclusion of the sexual abuse unbelievable as worldwide, it's not that simple to prosecute. And why didn't Akinyi take more action after what happens to her with the old man's sons? It's just washed under the table, leaving a bad taste in my mouth.
However, the reader is warned going into the book that these will come up as themes. So forewarned is forearmed.
One very important point that had red flags for me. At one stage Akinyi asks Adams that as a soldier, did he also participate in rape and he kinda sorta answers and also waves the question aside and they go on like nothing has happened.
Sis.
If a man had been that wishy washy to me on such a question I'd take off my shoes and run, not walk, out of that budding relationship. ESPECIALLY when we're given to believe Akinyi has these concerns so close to her heart.
The other thing I found a bit different were the sex scenes. The reader is taken along this very teasingly long wait throughout the book of will they/won't they, even though we know they definitely will (Hello! Romance novel!) and when it finally does come (pun definitely intended) it's a bit…flat for me. As I said, well written, care taken with them, but I think some of the words used were a bit too colloquial for me. I sound like such a prude and I swear I'm not, but personally, I wouldn't use pussy and dick in a sex scene. I'd have used vulva, vagina and penis. But lookit, that's my personal choice and it didn't take anything away from the steaming sex scenes for those who don't mind.
So the question then is why did I read it till the end. There was strong storytelling. The descriptions of the scenery, the feel of community and challenges and pleasures that come with it; those first few moments of navigating a new romance; solid female friendship and the cameraderie that comes with it. All those elements rose out of the book and pulled me back to my own childhood and early adulthood.
Would I recommend this book? Yes. I'd point anyone to the review above and let them make up their own mind. But I'd certainly tell them to read it, and I wouldn't turn down the opportunity to read another of the writer's books at all. I'd recommend it to romance readers who love a good happily ever after and don't mind steamy sex scenes.
I got an advanced reader copy for the purpose of this review.  All the above are as usual, my own views and my own. The book is now out and available in ebook and paperback, with several links on where to buy it at Love Africa Press. There's also an excerpt from the book if you want a sneak peak.