Book 7 – A book by an author whose first and last names start with the same letter – Intruders by Mohale Mashigo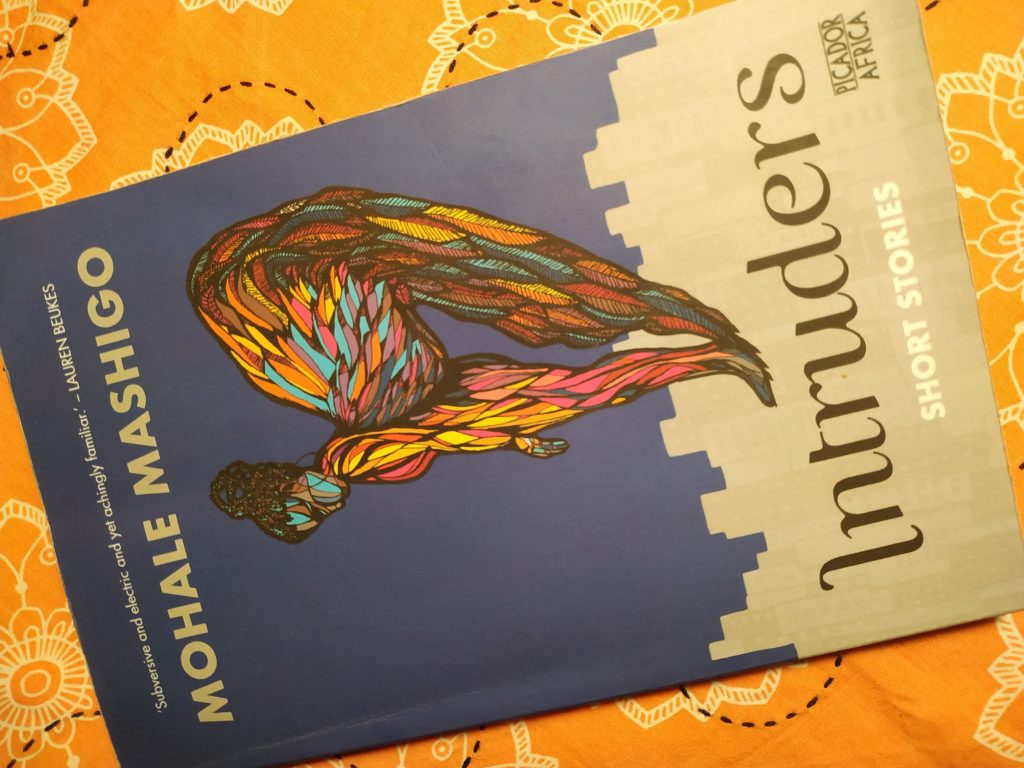 Book Blurb:
Synonyms: Trespassers, interlopers, invaders, prowlers, infiltrators, encroachers, violators
Orphans sisters chase monsters of urban legend in Bloemfontein. At a busy taxi rank, a woman kills a man with her shoe. A genomicist is accused of playing god when she creates a fatherless child. Intruders is a collection that explores how it feels not to belong. These are stories of unremarkable people thrust into extraordinary situation by events beyond their control.
With a unique and memorable touch, Mohale Mashigo explores the everyday ills we live with and wrestle constantly, all the while allowing hidden energies to emerge and play out their unforeseen consequences.
Publisher: Picador Africa
Pages: 182
Author Country: South Africa
Review:
Can I just start by saying that the cover for this book is beautiful.
They say don't judge a book by its cover but any reader will tell you that's absolute rubbish. We first investigate new writers and new books by their covers, read the blurb at the back, then decide whether its worth reading. This book picked all the boxes. The cover art is as intriguing as the stories within.
I was blown the fuck away by this collection of short stories. It was another book where I had to lie down for a bit after reading the first story because it was just….all the feels.
There are twelve short speculative fiction stories in this collection and I can honestly say that each and every one of them is incredible. I love when short stories leave you hungry for more, hoping the writer will expand that world into a full novel someday. Most of the stories in this collection felt like that. Each inhabited it's own little bubble universe that was as terrifying as it was richly written. Mashigo fleshes out her stories with enough padding for you to empathise with the characters, be baffled by their fate, scratch your head at some of their actions, or just ache for what they are going through. While each story stands on its own, three of them are linked, and I really liked that idea. It was like revisiting a world I thought as gone, and finding it was still there, waiting for my return but taking me by surprise. Because there are so few, I can give you a short, spoiler free summary of each.
Manoka — a young woman does a horrible thing and discovers something she didn't know about her family, and her own child.
Ghost Strain N — This was one of my favourites as I'm a huge zombie apocalypse fan. We are given a young man's view of how an apocalypse begins, while journeying with him as he tries to save his friend,
The Parlemo —hidden worlds within our world. This reminded me of one of the short stories I read recently, but didn't make nme enjoy it any less. A shop exists where you can relive your memories, but there's a catch for whoever is willing to pay the price.
Untitled i — the world is coming to an end and you can change one life. Would you be brave enough to make that stand?
BnB in Bloem — Two girls grow up to be hunters of monsters that remain hidden from everyday life.
On the Run — this one was interesting as it linked apartheid and post apartheid worlds. A woman is accused of killing her husband, and she tells her story.
Little Vultures — This was the only one that baffled me. I may have to read it a few more times. A genomicist creates the perfect baby but retreats from the world as a result. that's about as much sense as I made from it. I'll probably understand it better the second time around.
Untitled ii — continues the story started in Untitled i, from a different viewpoint.
The High Heel Killer — a woman kills a man for catcalling her in the street. She begins to change in ways she can't explain.
Once Upon a Town —a young girl and young boy fall in love, but that's only the start of the story. each comes with their own baggage, but the thread that binds them is stronger than love.
Untitled iii — final story started in Untitled i and Untitled ii. pleeeeease make this into a novel. please I beg of you.
Nthatisi — a girl discovers that the folklore she has been told in a letter, is real and has immediate consequences for her.
That last one was my favourite – a complete story that's also an incomplete story, and left me wanting more. It was so short I was shocked it was finished so soon.
But seriously, buy this collection. Read it. Admire, touch and caress its cover and take it to bed to read before you go to bed. There are other worlds within ours and they are damn exciting.
*
If you're now chomping at the bit to read this book, you can either borrow it from the library, a friend/colleague, or you can purchase it by following this affiliate link for bookdepository Should you follow the link and buy a book, I'll get 5% off the price of my next purchase, so give me some love if you. They provide free worldwide shipping so that's an added bonus to their relatively low book prices.
Till next time,
Muuka.