Book 6 – A book told from Multiple character POVs – The Obelisk Gate by N.K. Jemisin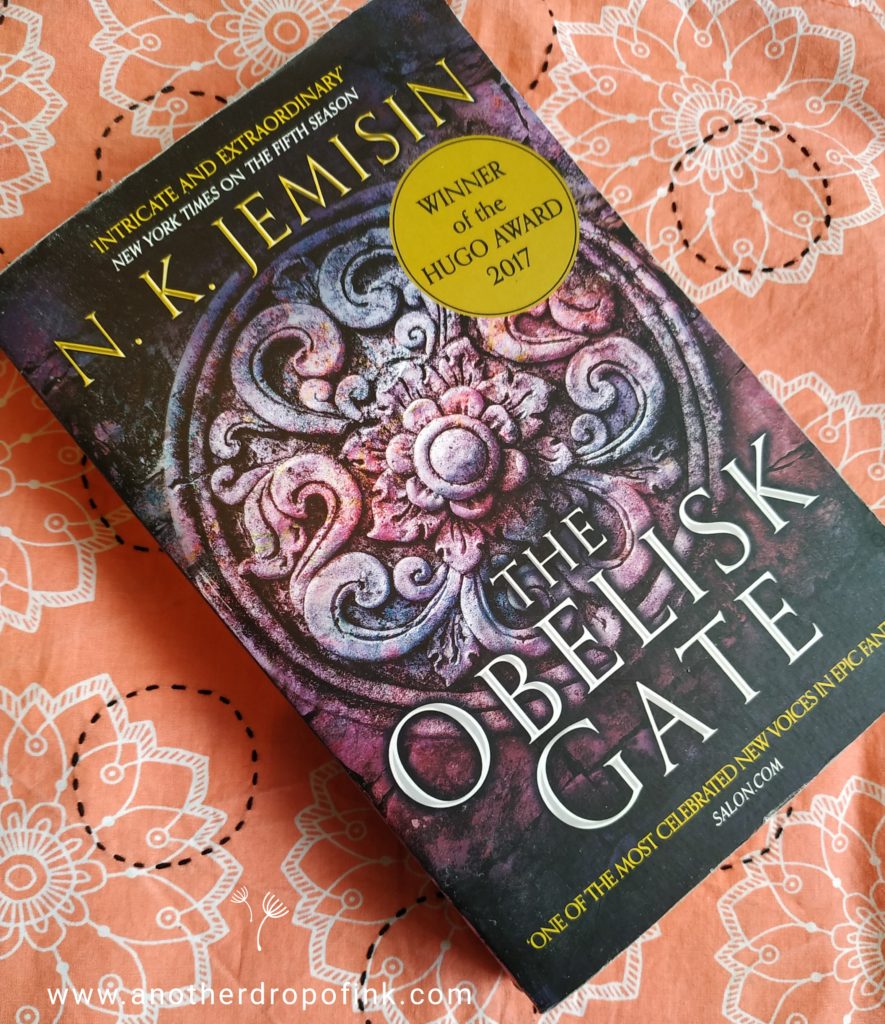 Another N.K Jemisin book because I seriously can't get enough of this woman's writing style.
Book Blurb:
The Seasons of endings grows darker as civilization fades into the long, cold night.
Essun has found shelter, but not her missing daughter. Instead there is Alabaster Tenring, destroyer of the world, with a request only Essun can grant.
Publisher: Orbit
Pages: 391
Author Country: American
Review:
This is book two of the broken earth trilogy by N.K. Jemisin. I was BLOWN AWAY. Seriously. BLOWN AWAY by the first book, and was waiting ages for the second to arrive so I could begin to read it straight away.
It doesn't disappoint.
Following the story of Essun as the world ends, we start exactly where we left off in book one, but two different voices take up the narration, as well as the ever present narrator, Hoa.
Anyway, let me start with the things I loved about the book, so that if you want to stop there, you can. The world building is amazing. Jemisin's attention to detail is so good you can nearly reach out and touch whatever she describes, you get sucked into and immersed into this world, despite its relentless gloom. It was a pleasure to return, even as it is falling apart. I love the way she structures the book, the way she writes it (the chapters end at just the right point to make you, at one in the morning, think "just another chapter…and maybe another one"). Her style is that mix of suave and action that leaves you pulling your head up in a crowded bus, disappointed you're still on planet earth. We are given a wider view of Essun's world, winding our way down to the arctic regions, slowly and in detailed description that never bogs you down, nor do you get tempted to skip over it.
I felt, however, that the second book was more killing time than anything else. It's common knowledge that once any fantasy/sci-fi movie introduces a council of some sort, it's going to be the dud in the series and I'm afraid this suffered the same fate to some extent.  Slower paced, it felt like it was counting time till book three (which was amazing by the by!) and some characters' voices drew me in more than others. There was the obligatory small council meeting, the obligatory war with the big bad other…the usual.
ANYway…
We start off with Essun still in Castrima under with Hoa and Tonkee. It's never made clear why Essun stays there so long. I didn't think it made sense that she stayed for Alabaster. She loved him, yes, but…..Nassun! come on! It's not like the world is going to get better any time soon, so why stay? Why doesn't she just head off to find her daughter? She was desperate, so determined to reach her goal in book one that it seems a bit weird she'd allow herself to be so sidetracked, no matter what he wants to tell her. No matter how much she can learn from him or what big secrets he frustratingly dangles in from of her (and us) in coded mysterious and frustrating (did I say frustrating already?) sentences. And frigging months go by. MONTHS! It makes no sense. Yes, we get to know her better in a way, but in other ways she stays exactly the same. Alabaster stays frustratingly the same. Their relationship stays, yes, FRUSTRATINGLY, the same. On the big plus side though, we are given more insight into the other people's lives – Tonkee, Hoa, Ykka, Lerna all are fleshed out more, in all their quirks, flaws, habits and mannerisms and it's a pleasure getting to know each of them, carng for them and then getting your heart ripped out of your chest when stuff goes wrong for them. 
We also (finally!) have Nassun's narrative voice, as we begin to follow what happened to her when she was taken away. Hers were my favourite parts. Heartbreaking, sensitively written and makes you want to reach in and hug that little girl. The character's development is slow paced and empathically written to a climax that you can't help but agree with because there's just no other way it could have ended.
I won't tell you who (whom? I never know if/when to use the two) the third POV is because I was quite surprised myself. It's worth discovering by oneself. 
We also learn a lot more about the stone eaters, about the guardians, about the wider civilisations and what's happening to them, which ultimately brings us to a climactic confrontation between the people of Castrima under and an invading army (obligatory final battle scene).
Mostly, this book was about belonging, about finding one's place and then discovering the flaws that come with it, and how or if you'll accept and fit into that home. It's about discovering what you are capable of when you thought you knew who you were, and when you have no idea who you are, and ultimately, about living with the decisions you then make during this ongoing swirl.
*
If you're now chomping at the bit to read this book, you can either borrow it from the library, a friend/colleague, or you can purchase it by following this affiliate link for bookdepository.com  Should you follow the link and buy a book, I'll get 5% off the price of my next purchase, so give me some love if you. They provide free worldwide shipping so that's an added bonus to their relatively low book prices.
Till next time,
M