That's soooo you! Objects of me blog-link
Sunday was Father's Day as most people know and as Facebook went on fire with Facebook memes and messages and photographs of fathers, I was busy polishing up my blog post.
Maud over at Awfully Chipper, is running a blog link asking what objects define you? What would your kids look back on and say 'That's sooo you!'
Because there were so many of my dad that defined him for me. A year after he died, mum asked us each to pick out one item of his that we would like to keep for ourselves and I was torn. From items of clothing, jewellery, things he kept lying around, it was really difficult to pick. And there were so many other non material items that remind me of him – songs, phrases, idioms, games. I actually don't remember what I picked in the end, which will be kind of nice when I do decide to look at it, whatever it may be, someday soon.
So what objects define me? I didn't get to ask Roz, because I'm such a procrastinator, but I do have items that have been there for a long time and am confident she would pick out as Muuka defining.
Blue.
I Love the colour. And all it's different varieties. I love when Roz says,
"blue is for boys! then quickly revises it to say" but some girls can like blue because my mummy really loves blue".
It's so defining that when I went shopping for a wireless mouse and keyboard for my snazzy new laptop, she pointed to the blue ones and said,
"I bet you're going to buy these ones because they're blue". then rolled her eyes and laughed.
She was right. I did buy them.
Aren't they beautiful?!
Now if only they'd had the laptop in blue…..
Bracelets.
I got these bracelets ten years ago, from my cousin who makes the most beautiful bead work. They've become such a part of me that I often forget I'm wearing them. When I was getting prepped for my c-section on Roz, I remember being in the gown, naked as the day I was born, and the midwife saying,
"you have to take off all jewellery and watches" and I was looking at her like, yeah, I did! And Krys had to point at my arm and tell me to take them off. Whoops!
If only there were more blue ones…..
My scarf…
I've had this scarf for nearly four years now. Each winter we have a Kris Kringel/ secret santa thing in work which yields hilarious and heartwarming results in equal measures. It's interesting how, when someone goes to the effort of picking something for you, what they see is very telling of who you are as a person in work. Whichever way you take it.
So anyway, I got this beautiful multi-coloured leaf pashmina that I adore! I wore it home that day and have worn it every winter since, and finally a few months ago, the person who got it for me revealed who they were. I was chuffed to bits as we've become friends over the years and it makes it even more precious.  I'm not a great photographer so apologies that this photo doesn't catch the total beauty of the scarf.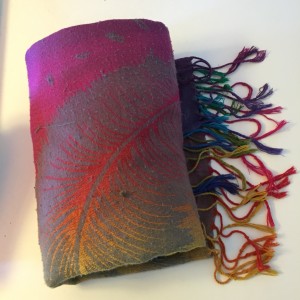 BTVS – Once more with feeling…
Not really an item, but we love, love, LOVE the soundtrack to the Buffy episode. Sunday is Krys' lie-in day, so Roz and I close ourselves into to living room and make breakfast and plan our day listening to the soundtrack.  She knows most of the songs off by heart now, ans when I can convince her, also agrees to dance along to the music with me.
Her favourite song is Walk through the fire, which she knows almost all by heart, while mine is Going through the motions….no, Something to sing about…erm…okay, no, What you feel. Argh! Okay, I love all of them equally.
When we were getting our holiday driving CD ready last month, I was delighted that Roz's options included "all the songs from Buffy!".
I'm raising a girl with class right there!
So, what objects define you? If you're a blogger, write a post and join the link-up, and if you'd simply like to know what others have written, follow the link below and enjoy the read.
Awfully Chipper : Blog link up