Things I love when I'm in Zambia
The big open sky! Gosh, I could go on about it for days. I never understood description "big sky country" that's used in America until I lived in Ireland and went for my first visit back home. In Ireland, there is this pervasive feeling that the sky is RIGHT OVER YOUR HEAD and that if you jump just a little higher, you can touch it. It can feel very claustrophobic at times. And you get the feeling that you can walk to the horizon, touch it and walk back home in a few hours. Now, Lusaka is anything but mountainous or lake filled like Montana, but my goodness the sky goes on forever and ever. You get these huge cottony, high cumulonimbus clouds that just blow your mind and elongate the sky for miles above and pull the horizon so far you feel it will never end. To this day, I love nothing more than lying on a grassy lawn and staring at the clouds, lost in thought, every time I'm in Zambia.
Fruit, fruit and more fruit. As we were preparing to leave two weeks ago, Krys said the one thing he looked forward to in Zambia was to eat tons of watermelon, papaya, tomato and mango all day every day. Unfortunately, we didn't get to eat them all day every day as we were mostly on the move but boy did we eat a lot of them. I absolutely adore most fruit and I would gladly live on fruit alone if I wouldn't miss fresh fish so badly. The great thing about Zambian fruit is that it's got to be seasonal. There's nothing better than picking ripe guavas off the tree in April, and climbing a mango tree with a knife and book in December. I miss my childhood days of climbing mulberry trees and stuffing plastic bags full of the beautifully dark purple berries before climbing down and stuffing handfuls of them in my mouth. Days of cramming masuku and nchenje in a seemingly never ending stream till my cheeks puffed out. Why do we have to grow up? It's the meanest thing about living on this earth. Roz must've eaten her weigh in watermelon over these last two weeks. It was such a delight to see her take such great pleasure out of the simple joys of life– mama's little girl for sure!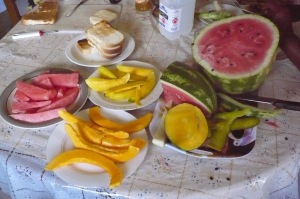 Breakfast at my mum's house – says it all really.
Very closely behind fresh fruit are fresh vegetables. I remember coming to Ireland and the very first meal I had was accompanied by boiled cabbage. Broccoli and cauliflower. I nearly wept into my boiled potatoes! Nothing on this earth beats the famous lightly boiled then fried rape leaf vegetable as a side dish. And those who know me know that given half a chance, I can eat sweet potatoes morning noon and night.
There are three types of sweet potatoes I know of – the orange one which is great roasted and used instead of ordinary potatoes in a roast; the red one which is great boiled and mashed then mixed with ordinary mash (it gives it that extra sweetness that just MAKES a Sheppard's pie) then there is the absolutely delicious yellow sweet potato that's great as chips with a Hungarian sausage on the side, roasted, baked, boiled and eaten with a cup of tea…I 'm even salivating just thinking about it! My Banene once watched me eat boiled yellow sweet potato for breakfast then yellow sweet potato chips for lunch and supper and same again the next few days and said,
"Muuka! You would make anyone hate the sight of yellow sweet potato!"
And I thought well, that would mean more for me so wahey!
After sweet potato is freshly roasted and boiled maize. Yummy! I'm not talking about that lame sweet corn you get that gets stuck in your teeth. I'm talking huge cobs where you can peel off each row of kernels with your thumb. My fellow Zambians know what 1'm talking about. I didn't get to eat much of them this holiday though as it was end of season but oh my goodness I enjoyed the two that I did manage to get. One boiled and one roasted. Bliss. And here's a little bit of useless information for you: did you know that cobs of maize always have even number of rows? I've eaten and counted enough of them in my lifetime to verify that this is true.
The only thing that comes in closely after fresh maize is fresh boiled groundnuts. There's nothing better than sitting with a huge bowl of them still steaming, cracking the shell open and just popping those babies into your mouth. The smell, the taste…exquisite. And I definitely had those on holiday because it turned out my sister's partner loves them too so there was a great supply every day.
Twenty four degrees and counting. Do you know why I always fly to Zambia in late April early may? Because the weather is simply described in one word. GORGEOUS. The temperature is just perfect. You get to wear flip flops all day and spaghetti string tops to keep cool. You can sit outside in the sun and take in as much vitamin D as you need with no fear of getting sunburnt. Even Krys agreed that it was just perfect – not humid and not uncomfortably warm. And when the temperature soars to 28 degrees and the humidity starts to get to you, the scent of rain hangs heavy in the air before the heavens open and give you sweet relief.
Braais, or as the rest of the world knows them, barbecues. I think we nearly had a braai every day while in Zambia, except for the three days we spent in Livingstone. Crates of drinks with boerewors, marinated spatchcock chicken and pork chops and the occasional steak just put the final touches of holiday fever onto our already perfect holiday. I love braaied meat. Firstly, it's healthier because you don't have to boil the arse out of it, nor do you have to fry the arse out of it. You just marinate it and drenched in beer – just like evolution intended!

J

Some potato and other salads for those who eat such things (I'm a strict no mayo/ salads person myself) and some roasted sweet potato on the side for me. Honestly, I could have died a happy woman several times over the last two weeks.
I got to see my Banene again! I don't realize just how much I miss her and am afraid she won't be there, till I see her. She's eighty four this year and I hope and hope that I will see her again next year. Every time I'm home she tells me,
"Muuka, you've found me again! How wonderful is life?"
And I know the subtext and don't even want to think about it. I hope she outlives me, regardless of how bizarre and unrealistic that may seem.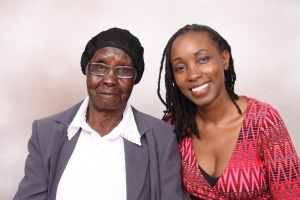 Banene and I
Finally spending some quality time with my siblings. It's been a while, and this is the first year when we are all adults. My baby brother turned eighteen last year but we've only gotten to see him this year and it was good not having to hold back on all my curses, to offer him a beer (even though both he and I doesn't drink)
I spent about four hours one night just speaking to my two immediate sister, Yolanthe and Twaambo, about our childhood and growing up and while some of the discussion was really sad, we had such good laughs too. And I've really missed Twaambo. I went to bed that night wishing we lived closer and could see each other face to face more often. It was also just cathartic to speak about everything that we had each wrestled with and to talk about dad, which we never really had done as the three of us.
I didn't get to spend as much time as I would have liked with my brother Frank and sister Bibi, but I loved that we at least got some time. Bibi is just so different from me and is so seemingly confident at 21 (happy 21st for tomorrow babe!)
And Frank…he's the only brother I have and I'm just so used to sisters that he's fascinating. I cannot wait to see the man he turns out to be. When I was home, I helped him dye his hair black and then he had it dreadlocked, so I'm really looking forward to seeing how his locs turn out. We have two dread heads in the family again after Twaambo abandoned ship on me a few years back. And he's promised to come visit sometime this year, which will be excellent!
The best thing about all of us being all grown up now? I hope we'll be able to talk more openly, to trust each other and be able to lean on each other emotionally through the years. It's hard knowing I've missed ten years of my three siblings' lives, yet it's wonderful that even in that time, we haven't all lost touch to the extent where we don't speak, or where we feel the age gaps are too wide to be overlooked.
I hope that this holiday is the beginning of us developing that emotional connection that we all crave as humans – someone who is family that we can also call a friend.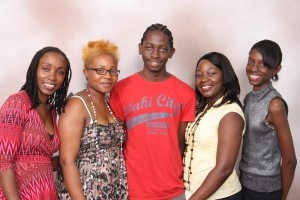 Me, Yolanthe, Frank, Twaambo and Bibi.