Book 14 – A book that takes place in a single day – Bloodchild by Octavia Butler.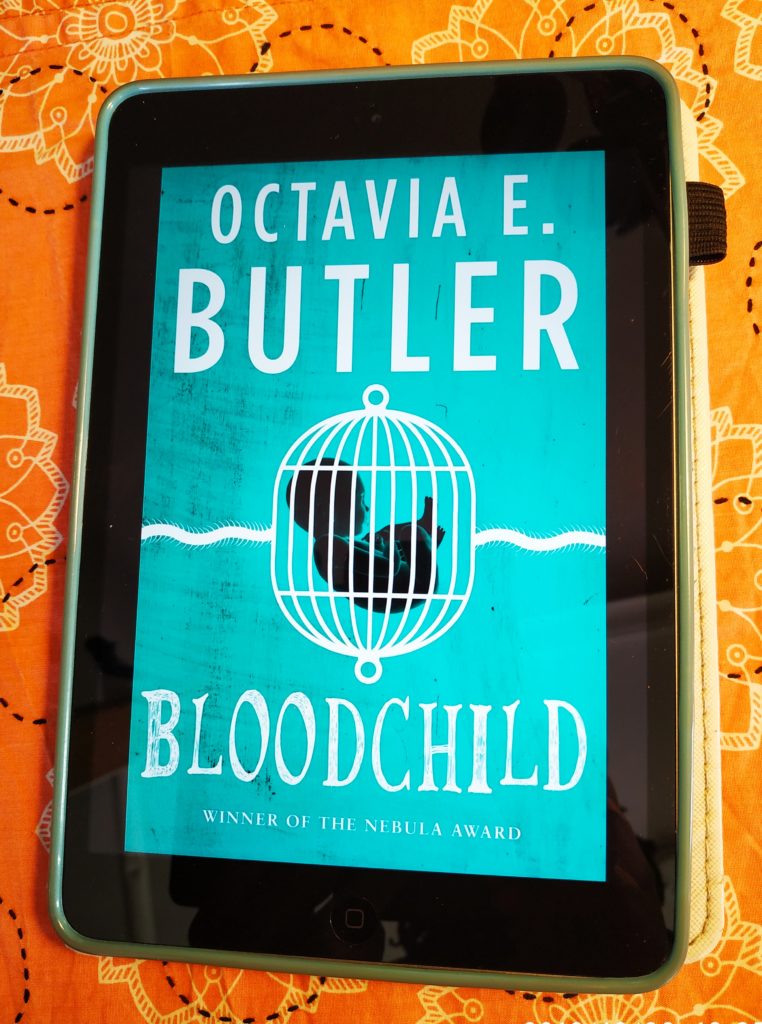 You know what's nearly impossible to do while wrapping your locs in yarn? Read a paperback. I definitely would not recommend trying to hold down pages with your elbows unless you don't want to have a back in a few years.
Enter tablet!
I have so many books in digital form that I haven't read, and the list is about as long as the real books piling up beside my bed waiting to be read. Anyway, late night hair wrapping and I decided to read my first ever Octavia Butler. Here's my spoiler free review.
Book blurb:
Years ago, a group known as the Terrans left Earth in search of a life free of persecution. Now they live alongside the Tlic, an alien race who face extinction; their only chance of survival is to plant their larvae inside the bodies of the humans.
When Gan, a young, boy, is chosen as a carrier of Tlic eggs, he faces an impossible dilemma: can he really help the species he has grown up with, even if it means sacrificing his own life?
Publisher: This Ebook, Headline Publishing Group 2014
Page number: 31 pages
Author country: United States
Review:
My kindle app suggested that I'd read this in about 40 minutes, and it was about right. it's a very short, but very engaging novella. The blurb tells it all really, as we follow one night in Gan's life as he is forced to make up his mind on whether to carry an alien species' eggs once he sees first hand what can go wrong in the process.
For such a short read, it's an immensely powerful story. The descriptions are brief and to the point, yet leave nothing to the imagination…in a good way though. Butler states at the end of the story that she was surprised that this story lead people to think immediately of slavery, but yeah, that's exactly where my mind went. Not because the characters are black, but because of the relationship she describes between the Tlic and the terrans. It's oppressive and upsetting in it's way of trying to make the relationship symbiotic while you can tell that the Tlic hold all the power while trying to make it seem like they don't. It's also a story from mos people's nightmares because there are insects on this very earth that can lay their eggs inside you and use you as a host and it's awful and horrible and having been witness, as a child, to someone having to have maggots removed from their very person….well, it's not a pleasant memory and I shudder each time I think about it.
But her writing is just breathtaking. It's succinct and as I've said, short and to the point while putting across exactly what's going on. Of course with this short of a novel, you're left wanting to find out more of this world, wanting to know how the Terrans got to the planet, all the history that went on to get to this point in the story…but we don't get that because short story.
I actually have no cons for this tale, it's simple perfection. Not a redundant sentence out of place. I want to write like this. I want my stories to be as powerful as this.
AND it's still free to purchase on Amazon in kindle ebook version. yes, amazon is problematic, but hey, I got it a looong time ago.
*
Beg, borrow or ask to be gifted the series from a friend, library, or family member. I got mine online at amazon and it's still free for kindle ebook. You can buy it as part of a short story collection in a paper version (if you wish) by following this affiliate link for bookdepository. Should you follow the link and buy a book, I'll get 5% off the price of my next purchase, so give me some love if you. They provide free worldwide shipping so that's an added bonus to their relatively low book prices.
Till next time,
M