Circles and doodles
I often look on in awe as my niece, who's six months younger than Roz, draws a circle on paper, blackboard, whiteboard and anything else she can get her hands on.
My daughter could not draw a circle to save her life.
She's great at tons of things.
for example she has a great sense of humour and such a grasp of comedic timing. She could talk you under the table if you gave her a fare chance and she can sing like it's the only thing worth doing in the world.
But no, she can't draw a circle.
In fact, most of her drawings till about two months ago involved long scratches across whatever material she was given.
I'm not judging because somewhere I know that all children develop differently and her ability to draw a circle now is not indicative of anything AT ALL. But oh, those circles my niece draws are a thing of beauty.
So when Krys bought a little cardboard make-your-own ladybird pack and made this with Roz a few weeks back: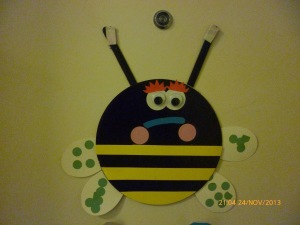 I only took the picture tonight but it's been on our door for a few weeks.now.
We were both delighted that she loves creating things anyway. Even though she didn't create it from scratch herself.
Last week she asked Krys if they could make another ladybird from scratch. So Krys got cardboard and copied the basic design of the bug and that's where I left them that morning.
Well, I got back home to this: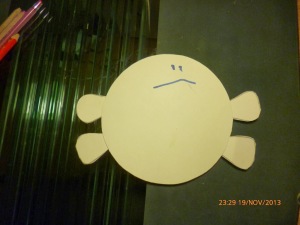 Rozalia drew the face herself and I am so proud of her. It seems while our backs were turned, she got the concept of faces. I love it. It now hangs under the other one on our door.
I wonder what our neighbour makes of it….